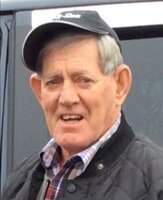 Richard "Dick" Jamieson
JAMIESON, Richard "Dick" – Age 84, of Midville Branch. It is with broken hearts that we had to say goodbye to our loving husband, father, grandfather and great-grandfather, Richard Jamieson (affectionately known as Dick), on October 24, 2022, at South Shore Regional Hospital, Bridgewater, surrounded by his entire family. Born in Fox Harbour, N.S., on October 6, 1938, he was the son of the late Otto and Irene (McInnes) Jamieson.
Dad joined his uncle here in Bridgewater, at McInnes Electrical, in 1960. Making Bridgewater his home, he soon became a well known electrician in the area and worked for Merle Daniels Electrical, and Sonny Hubley Electrical throughout the remainder of his career. Taking a break from electrical work, Dad worked for a few years for his good friend, Rollie Wile, for Road Savers Ltd.
Dad was an avid horseman and owned horses his entire life. They always wore the best shined up harnesses, which Dad took great pride in. He would even travel his beloved June and Buddy to his Fox Harbour summer home. Many people would stop and admire his team of Black Percherons. Dad's other enjoyment in life was his old Gibson guitar. He loved country music and the Saturday night kitchen parties in our home. He also taught his three daughters to play from a very early age and they would join in the singing and playing. Dad was the go to guy in our family. He was a jack-of-all-trades and we would call him to help us with everything we needed, whether it was day or night, Dad always came to the rescue.
Dad so loved our Mom, she was the love of his life for over 61 years. He adored his three daughters, and his grandchildren were his pride and joy. His dear great-grandchildren were Dad's love and entertainment. Dad loved many things but some of his greatest joys were the family camping trips and family gatherings in his garage, where all the kids, grandkids and great-grandkids would arrive, and there would always be some good country music playing.
Dad is survived by his wife, Elva Jamieson; his three daughters, Wendy (Brian), Wanda (Barry), Dawn (Leo); grandchildren, Dana (Sara), Tara (Jevan), Michael, Sammy-Jo (Tristan), Megan (Stephen), Jesse (Martina) and Miranda; great-grandchildren, Jamieson, Jaylan, Miranda, Austin, Malcolm, Presley, Grace, Georgia, Everly, Scarlett and Damion. He is also survived by his brother, Merrill (Sylvia); sisters-in-law, Margaret DesRoche, Marg Robblee, Alma Robblee, and Wendy Morrison; brothers-in-law, John Wolosinovsky, Bill Parkinson and Carson Robblee (Marilyn). Dad is predeceased by his parents Otto and Irene Jamieson; brother, Jerry; and grand-daughter, Janelle.
We really want to thank our beautiful Mom, who took such wonderful care of our Dad during his illness. Thank you to Dr. Ferguson, South Shore Regional doctors, nurses, paramedics, Palliative care, and thank you to Dad's nurse, Marcie, who made our Dad and our family so comfortable during such a difficult time.
A public memorial service for Richard will be held on Saturday, October 29, 2022, at Sweeny's Funeral Home, 35 York St., Bridgewater, beginning at 1 p.m., with Rev. Connie McNamara officiating. A public reception will follow the service, in the funeral home. A graveside service will be held on a later date, in Fox Harbour Cemetery. In lieu of flowers, donations may be made to Fox Harbour Cemetery and Knox Presbyterian Church, Dublin Shore. Arrangements are entrusted to C.F. Sweeny's Funeral Home, Bridgewater, where online condolences and donations may be made by visiting www.sweenysfuneralhome.com.
"When God picked you from the others, He could already see, That you would be our hero, And in our hearts you will always be"