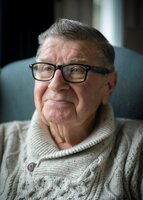 Robert "Bob" James Kinnear
ROBERT "BOB" JAMES KINNEAR
Born 19 April 1939 – Died 29 October 2022
We regretfully announce the passing of Robert James Kinnear on October 29, 2022, at the South Shore Regional Hospital, at the age of 83. He was a son of the late, Jim and Veronica (Farrell) Kinnear formerly of Vancouver, British Columbia.
As a young man growing up in B.C., Robert enjoyed sports including soccer, even winning a national title at the age of 12 and meeting the professional English team for which his team was named, Tottenham Hotspur. He also enjoyed racing hydroplanes and flying private aircraft before joining the Royal Canadian Air Force. After five years, he left the Air Force to pursue a career in telecommunications in Vancouver, Hawaii, Montreal and finally Mill Village, N.S., where he managed a satellite communication station.
Living in Bridgewater for more than 40 years, his many friends at the Royal Canadian Legion, knew Bob as someone with a sense of humour who could always be relied upon for a quick -witted joke at any time. He was a keen crib player, even winning a tournament with a "perfect' hand, the thrill of a lifetime for him. He also gave back to the community by coaching kids in both soccer and golf.
Robert is survived by his spouse of 61 years, Sylvia (Atkinson) Kinnear; brothers, Ron Kinnear, John Kinnear, Michael Kinnear; son, James Kinner and his spouse, Heidi (Hollett) Kinnear; daughters, Cheryl Kinnear, Christina (Kinnear) Murray and her husband, Bruce Murray. Robert also has five grandchildren and two great grandchildren. He was predeceased by his son, Joseph Kinnear and his brother, Coleman Kinnear.
A private graveside service will be held for family and a celebration of life is planned for a future date in the Spring. Donations in Bob's memory may be made to Souls Harbour Rescue Mission or the Health Services Foundation of the South Shore Regional Hospital Auxilliary. Arrangements entrusted to Sweeny's Funeral Home, Bridgewater, where online condolences may be made by visiting www.sweenysfuneralhome.com