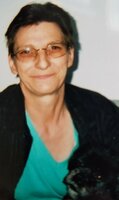 Elizabeth Agnes Webber
WEBBER, Elizabeth Agnes - We are heartbroken to announce the passing of Liz on October 24 2022, at South Shore Regional Hospital, Bridgewater, at the age of 67. Born on January 26, 1955, she was the daughter of the late Raymond and Muriel (Baker) Rhodenizer.
Liz is survived by her husband of 32 years, Douglas Webber; children, Dawn Hartman, Stephen Webber, Evilin Hart, Wayne Hartman, Elvis Webber and Lisa Rose; siblings, Charles Rhodenizer, Sandra Frausel, Earl (Judy) Rhodenizer, Cheryl (Leroy) Larkin and Cindy (Dave) Naugler. Liz, or "G-Nannie" as she was known to her many grandchildren and great-grandchildren, was loved by all her family, both blood family and family chosen. She will forever be in our Hearts!
She had many interests over the years, some of the better habits were bingo, horror novels and movies, poker, scratch tickets, just having a "good smoke" and visiting with friends and family.
Liz wanted a party, instead of funeral, to celebrate her life so please join our family on November 29, 2022, at 1 P.M. to 5 P.M., for a Remembrance Party, at Liz and Doug's home in Bridgewater. Come and spark up a "good smoke" or raise a glass and share fond memories of Liz Webber "G-Nannie". Please contact family, Dawn Hartman, Evilin Hart, or Elvis Webber for the address, or call Doug on his cell phone to attend Liz's Remembrance Party.
In lieu of flowers, the family asks donations in Liz's memory be made to Moca, Liz's pup, at https://gofund.me/d18a5fec. Arrangements are entrusted to C.F. Sweeny's Funeral Home, 35 York Street, Bridgewater, where online condolences and donations may be made by visiting www.sweenysfuneralhome.com.