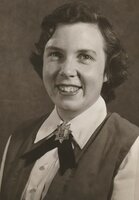 Mabel Jane Naugler
I Can Do All Things Through Him Who Strengthens Me – Phillipians 4:13
Naugler, Mabel Jane – Age 91, Bridgewater. It is with great sadness that we announce the passing of Mabel Jane Naugler who slipped away peacefully at the South Shore Regional Hospital, Bridgewater on Friday, January 27, 2023. Born in Country Harbour on December 14, 1931, she was a daughter of the late Henry Dean and Ella Margreta (Irving) Corkum, Bridgewater. She was predeceased by her first husband, Peter Francis MacGillivray (Halifax, NS); second husband, Donald Eugene Naugler (Upper LaHave); sisters, Jessie MacHattie (Argyle, NS) and Sarah Wilson (Country Harbour). Mabel Jane is survived by her daughter, Merinda Jane Power, Truro; sons, Geoffrey Dean MacGillivray, Toronto, ON; Roderick Ian MacGillivray, Bridgewater; grandchildren, Payson, Alicia, Nigel, and Leif Power, Madeleine MacGillivray; great grandchildren Iris and Ivy Power.
After graduating from Bridgewater Jr. Sr. High School, she went on to complete and receive a diploma in journalism from the University of King's College, Halifax, in 1952. She was employed as an advertisement consultant, working for such radio stations as CHNS, CFDR, and CJCH. Her musical accomplishments included piano and voice, singing at many churches in the greater HRM. A lifelong learner, she continued taking classes in French History and English at Dalhousie University while raising her family. In later life, she went back to school and obtained a diploma in Hospitality, Tourism, & Hotel Management from NSCC in 1993. She was an excellent driver and even won an award for courteous driving from the Maritime Automobile Association.
In addition to being an advertisement consultant, Mabel Jane worked as a clerk at LaHave Furnishings in Bridgewater, as a homemaker for the Lunenburg County Home Services program, aiding mature seniors in maintaining independent living, as dining room and housekeeping staff at the Bluenose Lodge in Lunenburg, and was part of a craft/antique consortium located in Mahone Bay.
Mabel Jane loved books and was a voracious reader. From classics to contemporary works, fiction, and non-fiction, to even some macabre titles, she relished the joy reading brought her, especially with all her friends in the Insatiable Readers Book Club.
She loved to host, and many pleasant events took place in her home. She also loved music and was an accomplished pianist and singer. As a mezzo-soprano singer, she performed frequently in Halifax at St. Andrew's United Church and First Baptist to name a few. For several years, she sang in the South Shore Chorale, the South Shore Ukulele Players, and Katz Pajamas.
It is through all these wonderful activities that she made many friends. She loved her friends, and it is those friendships that brought her so much happiness in life. The kindness and love all her friends gave her made her life that much richer, and we are grateful to all of them!
The family would like to acknowledge and thank all those who aided Mabel Jane as physical activities became more challenging. Special thanks to Judy Gillmore, Ginny Marum, Janet MacKinlay, Faye Young, Sandra Obritsch, and Marilyn MacLean who gave of their time, energy, and friendship to help make our mother's life that much more manageable. The family would also like to thank the physicians and nurses at the South Shore Regional Hospital during her stay, especially the staff of the third-floor surgical ward who provided professional and compassionate care.
A memorial service to celebrate Mabel Jane's life will be held 2 p.m., Friday, May 5, 2023 in Bridgewater United Church, Bridgewater, Rev. Neil McEwan officiating. Reception to follow in the Christian Education Centre. Interment following the reception in Brookside Cemertery, Bridgewtaer. Donations may be made to the South Shore Public Library, Bridgewater, Food Bank Inter-Church, Bridgewater, or to a charity of your choice. Arrangements are entrusted to Sweeny's Funeral Home, Bridgewater where on-line condolences may be made by visiting:www.sweenysfuneralhome.com.