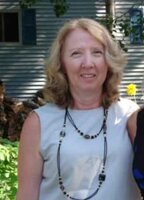 Anne Louise Llewellyn
Llewellyn, Anne Louise (Zwicker) – Age 70 of Hebbville, formerly of Camperdown, passed away peacefully in the South Shore Regional Hospital, Bridgewater, on March 4th, 2023.
She was a daughter of the late Harold Zwicker and the late Esther (Wile), (Zwicker) Wentzell, and a step-daughter to the late Cyril Wentzell. Anne is survived by partner, Paul Naugler, Hebbville; daughters, Jackie (Craig) Winters, Lunenburg, and Kim Llewellyn, Auburndale; grandchildren, Cody Hanhams and Kyle Sarty; great-grandchildren, Anastasia Hanhams and Alayah Dorey; sister, Lucy Baily, Lunenburg; sisters-in-law, Diane Zwicker, Pine Grove, Beverly Zwicker, Pleasantville, Ann Zwicker, Bakers Settlement; several nieces, a nephew; and many cousins.
Besides her parents and step-father, Anne was predeceased by her brothers, Leonard Zwicker, Richard Zwicker, Franklin Zwicker; and step-son, Timothy Llewellyn.
Public visitations will be held Thursday, March 9, 2023, in Sweeny's Funeral Home, Bridgewater, beginning at 3 p.m. - 4 p.m. and 7 p.m. - 8 p.m. A private memorial service for Anne will be held Friday, March 10, 2023, in Sweeny's Funeral Home, Bridgewater, invite only. In lieu of flowers, memorial donations in memory of Anne may be made to the Heart and Stroke Foundation, or the Alzheimer Society Nova Scotia.
Arrangements entrusted to Sweeny's Funeral Home, 35 York Street, Bridgewater where on-line condolences may be made by visiting www.sweenysfuneralhome.com