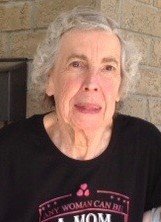 Obituary of Sandra Mae Frank
FRANK, Sandra Mae – Age 85 of Whynott's Settlement, Lunenburg County, passed away on August 15, 2021, in the South Shore Regional Hospital. Born in New Cumberland on April 7, 1936, she was the youngest daughter of the late Kenneth and Winnifred (Corkum) Croft of West Dublin.
She was a member of the Bridgewater United Church. She was a loving, caring and giving Mother, Grandmother and Great Grandmother who enjoyed the peaceful rural lifestyle, and through the years the pleasures of gardening, the contentment of working on the land, playing her piano, reading, writing letters and visits from her family and friends.
Sandra is survived by her son, Douglas (Barbara), Ontario; daughters, Karen (Bill) Redford, Ontario; Carla Robichaud, N.S.; grandsons, Zacharie (Samantha) Robichaud, N.B., Brian Otto, B.C. and Wayne (Tracy) Otto, Ontario; granddaughters, Emma (Andrew) Kilpatrick, N.B., Nicole (Chris) Robichaud; great grandchildren, Samuel, Clara, Jordyn and Jackson; sister, Eula W. Hirtle, West Dublin; brother, Wendell K. Croft, Dartmouth; nephew, Blake (Yvonne) Hirtle, Wileville; nieces, Catherine (Stephen) Dunn, Porter's Lake; Crystal Croft, Truro; Laurel Croft, Sydney Mines; as well as extended family. She was predeceased by her husband, Arthur and brother, Earle H. Croft.
Funeral arrangements are under the direction of Sweeny's Funeral Home, Bridgewater. By request there will be no visitation at this time. A private family graveside service will be held in Brookside Cemetery, Bridgewater, Angela Clifton officiating. Memorial donations may be made to the South Shore Regional Hospital, Bridgewater, or a Charity of Choice. Online condolences may be made by visiting www.sweenysfuneralhome.com