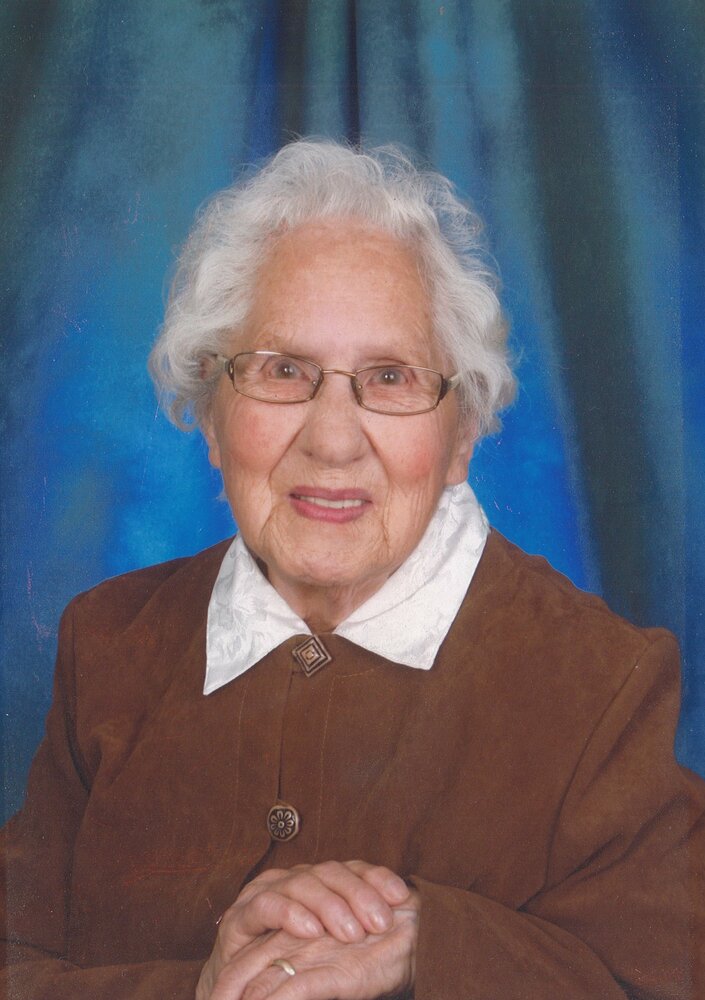 Obituary of Mildred Louise Everett
EVERETT, Mildred Louise – Age 104, formerly of Newcombville, Lunenburg Co., and resident of Mahone Nursing Home, Mahone Bay, passed away on Thursday, October 7, 2021, in South Shore Regional Hospital, Bridgewater. Born in Conquerall Bank on August 3, 1917, she was a daughter of the late Milton and Clara (Rafuse) Corkum.
Mildred was fortunate to live independently in her own home until the age of 100. She was a graduate of Yarmouth School of Nursing as a registered nurse and went on to work in the lab; she specialized in obstetrics, working in the OBS unit. Most of her nursing career was with the former Dawson Memorial Hospital, Bridgewater. She was an avid bingo player and also enjoyed her bus trips to the casino. She enjoyed crocheting afghans, scrapbooking and making handmade cards and ornaments. She especially loved her pets, Rory her Jack Russell Terrier, Jake and her cat. Following her retirement, she became an active member of the Eastern Star, Rebekah's Lodge and Royal Canadian Legion.
Surviving are her sons, Myles Fred (Joyce) Everett, Newcombville; Milton (Larysa) Everett, Victoria Beach; grandchildren, Sarah (Dwayne) Crawford, Kentville; Christopher Everett, Newcombville; Max (Sasha) Taranukha, Caymen Islands; great granddaughter, Emily Crawford, Kentville.
Besides her parents, she was predeceased by her husband, Miles Blackadar Everett; brothers, Enos Corkum, Ralph Corkum and sister, Elaine Knox.
Public graveside service will be held 11 a.m., Wednesday, October 13, 2021 in Brookside Cemetery, Bridgewater. Rev. Simon Davies officiating. In lieu of flowers, donations may be made to the South Shore Regional Hospital - Ladies Auxiliary, SHAID Tree Animal Shelter or charity of choice.
Arrangements entrusted to Sweeny's Funeral Home, Bridgewater where condolences may be made by visiting www.sweenysfuneralhome.com.