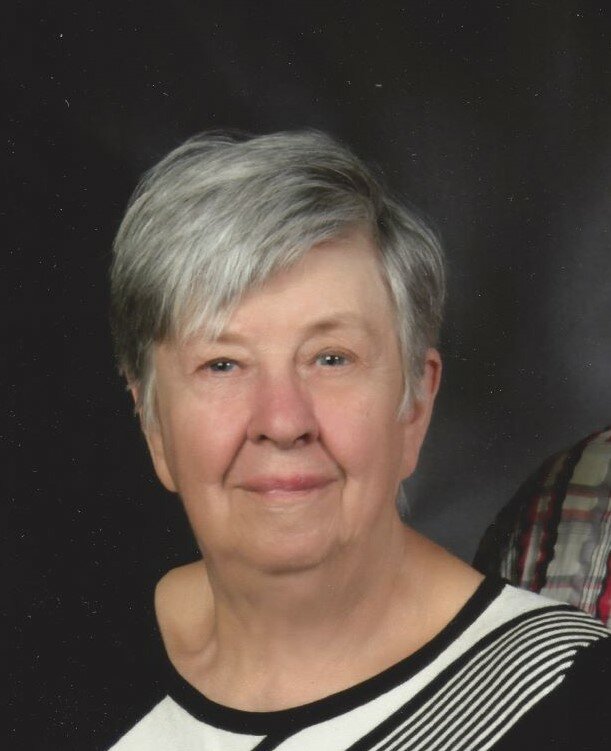 Obituary of Virginia Grace Joudrey
JOUDREY, Virginia "Jinny" Grace – Age 77, of Wentzell's Lake, Lunenburg Co., passed away on Monday, October 25, 2021 in Yarmouth Regional Hospital, Yarmouth, NS. Born on October 21,1944 in New Germany, she was a daughter of the late Earl Douglas and Marguerite (Arenburg) Feener of Pinehurst.
Virginia made her career with her husband of over 54 years, Robert "Chappie" owning their own business, namely Joudrey Appraisals and Consultants Limited. Jinny was the 'boss' of the business and everyone knew it. Prior to starting the appraisal business, Jinny enjoyed working with Kendall Kenny and JR Coughlan in the legal field. She taught bookkeeping, typing and shorthand at the former Vocational School. She refused to touch a computer and would only use her beloved typewriter. Jinny's paperwork was always organized in extensive detail.
She was a parent, then became a leader in the local 4H club and supported and assisted her husband with the Lunenburg County 4H Council. Each year she enjoyed attending the annual 4H Provincial Show. She spent several years helping to organize variety shows for fundraising activities for youth. In addition, Jinny was involved for many years in the local community from teaching Sunday School to organizing Christmas concerts to helping in the women's auxiliary group. She loved being in the outdoors and in the woods cutting brush for her handmade Christmas wreaths, splitting wood or just being in nature. She loved the homeplace, particularly the family farm in Pinehurst. Having lost her father at 15 years of age, she worked hard while attending school to ensure that her family could retain the family farm. Up to the present time, she was still helping with making hay from raking it to putting it in with her Gator. She loved being in the garden, planting flowers and always had any excuse to have a fire outside. Horses were in Jinny's life from an early age with having a pony to buying her own horse, Cindy. Her daughter fell in love with horses and they have been in the family ever since. She often helped daily with the barnwork and loved every minute of it, cutting carrots and apples every night so the horses could have a treat, but her biggest pride and joy was her beloved grand dog Chloe, her four legged baby girl.
Family meant everything to Jinny. She loved and supported her family which was prevalent in the many hours she and Chappie would spend with their daughters from everyday tasks to following their dreams and passions within life; horses, education, careers or opening a restaurant. Jinny was always sitting in the grandstands at the local exhibition watching her daughter compete or helping her daughter at the restaurant on weekends in the kitchen or for special events. She loved to travel and camp. She would reminisce and laugh about the many adventures and stories over the years. She loved her Artic Cat snowmobile and called it her "Kitty Cat". She spent many years, including last winter, on her "Cat" either going with her family, people in the community or hauling her mom in the sleigh. Jinny was an amazing cook. She always packed a lunch, along with some snacks for the road and made sure everyone had something to eat. She most loved cooking and preparing for exhibition week, which was a grand event for Jinny and looked forward to it every year - It was our family time. From preparing meals every day such as Crock Pot Dinner or her famous "exhibition cake". She enjoyed ice cream, lobster and was well known for her potato salad. Every Sunday was a big breakfast day in the house. She loved her chocolate, sneaking a little piece before bedtime or on her way to the office.
She was one of the strongest people with a quiet demeanour, a kind soul, thoughtful, a worker and a heart that was bigger than life. She was a well respected individual and an incredible and supportive wife, mother, sister, friend and mentor through the years. She always took care of everyone before herself.
She was always on the go with little idle time, saying, "there is always something to do",
or often saying "settle down, settle down, it will be ok".
She will be missed by so many. You will always be remembered and forever in our hearts.
Surviving are her daughters, Annette Joudrey (Ryan); Jeanette Joudrey (Glenn); sister, Cathy (Terry) Spidle; sister-in-law, Audrey Zwicker; aunt, Marion Veinotte and numerous cousins; special niece, Wendy and several other nieces and nephews; grand-dog, Chloe.
Besides her parents, she was predeceased by her step-father, Hollis Rafuse; her husband, Robert "Chappie" Joudrey on October 21, 2021.
No visitation by request. A private family graveside service will be held in Pinehurst Community Cemetery, Pinehurst. Rev. Judi Phillips officiating. Family flowers only, donations may be made to the Lunenburg County 4H Council, New West Pine United Church, Pinehurst Community Hall, Pinehurst Community Cemetery or charity of choice. A public Celebration of Life will be announced at a later date. Arrangements entrusted to Sweeny's Funeral Home, 35 York Street, Bridgewater, where on-line condolences and messages may be made by visiting www.sweenysfuneralhome.com.
We would like to thank the paramedics, doctors and nurses at South Shore Regional Hospital and a special thank you to the ICU staff at Yarmouth Regional Hospital.
Proudly Serving the Communities of Bridgewater, New Germany and surrounding areas.