About Us

Everything has a start and for the funeral directing family of Sweeny's it began in Yarmouth, Nova Scotia when native son Jacob Sweeny, born at Carleton, October 5, 1838, son of James Sweeny, of that Yarmouth County centre. He came to Yarmouth as a young boy, and strange as it may sound in this age, was only ten years old, when he went to work in a brig on a voyage to Ireland. It was said to be a terribly rough crossing, both ways, and the youthful Sweeny promptly decided that life on the open sea was not for him; so he learned the carpentry of cabinet-making trade. The ornate finish in the cabins on many fine Yarmouth ships was his skilled handiwork. For a time he managed the Rialto and wood working mills at Milton, later joining James G. Allen of Milton, a furniture dealer and undertaker, a well established firm which had been in business since 1840. When the Western Counties Railway was built, its line ran precisely through the Allen store. So in 1860 Jacob bought the business and buildings, and moved them to a site just north of where the Rogers Furniture firm is now located. He died January 24, 1924, survived by four sons and one daughter. One of his sons, Charles started a funeral business in Lunenburg, while another son, Vernon remained in Yarmouth.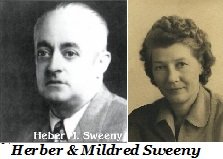 Charles Sweeny left Lunenburg in 1917 for Bridgewater, called the "Main street of the South Shore". It suffered a disastrous fire in January 1899 and, one month later, the community came together as an incorporated town. Charles Sweeny took over from R.C. Durling, undertaker and carriage shop proprietor. A son, Heber M., was born to the Sweeny couple in Lunenburg in 1894. He assumed control of the C.F. Sweeny Funeral Home in Bridgewater from his dad and died in 1968 at the age of seventy-four years. Heber was a former mayor of Bridgewater, serving for six years from 1936 to 1942. He was an ardent sportsman racehorse owner, and driver, and was prominent on the Maritime harness racing circuit. For many years, he attended the annual horse sale in Harrisburg, Pennsylvania and he brought more than one hundred race horses to Nova Scotia in the period he was connected with racing. He owned and operated his own race track in Bridgewater for about ten years. His wife Mildred and son Charles survived him. She continued to be active in the business until her death in 1987 at the age of ninety-three.
Born in Bridgewater, in 1934, and a graduate of the New England Institute of Anatomy, Sanitary Science and Embalming in Boston, Mass., Charles Sweeny received his Nova Scotia professional license in 1955. Charles Sweeny is proud to be a native of Bridgewater and is close to its eight thousand citizens. The County of Lunenburg numbers twenty-five thousand and according to Charles Sweeny "we're a close-knit group". Charles Sweeny passed away in Bridgewater on Friday 26 January 2007.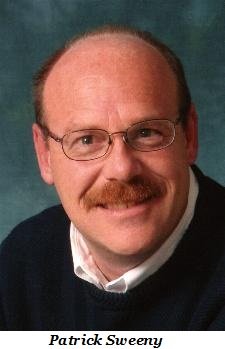 The fifth generation of Sweeny's is son, Patrick, born to Charles and Patricia in 1961. He followed in his fathers footsteps, gaining his funeral director and embalmer's license in 1985. Patrick continued his career with the former ambulance service and the funeral home. Once the ambulance service became provincially owned, Patrick remained with the family business as a full time funeral director and embalmer. His wife Holly also has her funeral directors license. Patrick continued to work along- side his father, until January of 2007, when Charles passed away at the age of 72. At this point, in the Sweeny Family history, Patrick had then become sole owner of the funeral home. Patrick, with his staff continued to operate the family run funeral home while upholding the family values taught by the generations of Sweeny's past. In December 2012, Patrick decided to retire from his life-long career, in order to spend more time with his wife and family.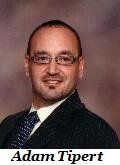 On January 1, 2013 the operations of the funeral home were taken over by long time employee and manager of the company, Adam Tipert, a native of New Germany. Adam has been the Directing Manager of the former New Germany Funeral Home since its creation in 1991. Sweeny's purchased this branch office in August 2002, bringing Adam into the staff of the family run Sweeny Funeral Homes. Adam, a licensed funeral director and embalmer along with the licensed and administration staff continue to maintain the same respected family value orientated service as taught and handed down from generation to generation.
This section of our website contains useful information about us. Learn about our caring staff, how to find us and see photos of our facility.
Proudly Serving the Communities of Bridgewater, New Germany and surrounding areas.