Planning Ahead
This section will help you organize your records for your survivors and guide you in preplanning a funeral.
The idea behind planning ahead is simple. One day, a great deal of vital information about you or a loved one will be needed by your family and anyone whose responsibility it is to assist them.
Those who plan ahead can be assured that, not only will their personal wishes be fulfilled, but other unnecassary difficulties will be avoided.
Both you and your loved ones will benefit when funeral arrangements are made well ahead of need. By discussing plans in advance, you can take all the time necessary to make the best decisions about the type of ceremony and burial procedures preferred.
A carefully pre-planned funeral service can also be the most comforting to your family members, as it spares them from facing decisions that can be both emotionally and financially difficult at a time of death.
In addition, it gives them the peace of mind of knowing they've acted in accordance with your wishes. We at Sweeny's Funeral Home encourage you to discuss your thoughts and decisions with your family and also with one of our funeral directors. During this time of planning ahead, you may also find it worthwhile to seek the advice of an attorney, a bank or trust officer, an insurance advisor and your clergyman.

Things To Consider When Planning Ahead
The Importance of Making a Will
No matter what the age or financial situation, every adult should have a will. A will is a legally binding document that can prevent a great deal of problems for your survivors. It insures that distribution of your possessions will take place according to your wishes. When no will has been drawn up, the distribution of assets must be carried out by an administrator appointed by the court in accordance with Provincial laws. In this event, it would be unlikely that the assets would be distributed to the persons you desire or in the proportions you would choose. In making your will, you should name an executor of your estate. Because he or she will be responsible for filing with the courts and carrying out the provisions of your will, the executor should be someone in whom you feel completely confident. Wills may be contested due to legal technicalities that may have been overlooked when prepared by someone inexperienced with the procedure. For this reason, the service of a competent attorney is recommended both in the drawing up the will and in settling the estate.
The Purpose of a Funeral
A funeral service has come to fill two important needs in today's society. First of all, it provides for the dignified and respectful care of the loved one. Equally important, the funeral service helps survivors face the reality of death - the first big step toward overcoming grief. Together, close friends and relatives who can lend support and consolation when they're needed most. A funeral gives friends and relatives an opportunity to express the love and respect they feel for someone who was important to them. Many times, just seeing how much others cared can be a tremendous help to a family in adjusting to their loss. We at Sweeny's Funeral Home can help by taking care of the many details that must be handled after a death. We will also work to accommodate any special request that might add meaning or comfort to the service and help the family face the future with renewed strength.
Choosing A Casket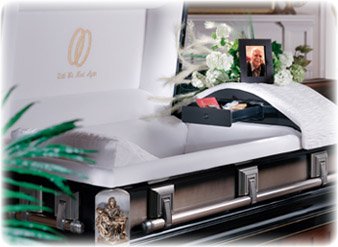 The selection of a casket is a very important element in pre-planning a funeral. As a consumer, you are entitled to the information you need to make a fully-informed choice. Caskets are available in various styles, with numerous design features that cover a wide price spectrum. Of the many caskets styles, there are primary two types, metal and wood. Metal caskets offer beauty, strength and protection. Hardwood caskets reflect the choice of familys who appreciate and cherish the qualities of natural wood. Our funeral service professionals at Sweeny's Funeral Home will make certain you feel comfortable with your casket selection. Please do not hesitate to ask for any additional information
Selecting a Cemetery Lot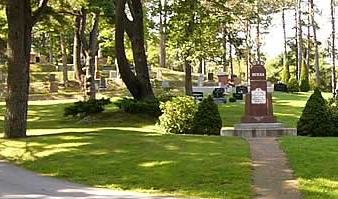 Because so many aspects should be considered when purchasing a cemetery lot, it's especially important to discuss this well in advance of need. There are a number of Cemeteries in the Bridgewater area.
Questions you should ask when deciding on the lot are:
1. Does the lot meet the requirements of your religion?
2. What restrictions are placed on types of monuments and burial vaults?
3. Does the price include perpetual care and maintenance?
4. Are there lots available in the same location to provide for burial of the entire family?
If you have any questions about selecting a cemetery lot, please feel free to ask us.
Benefits
It is unfortunate but true that many families do not receive the benefits to which they are entitled. All too often the survivors are unaware of the claims and benefits that apply in there situation. Therefore, all information should be clearly detailed on a record and kept safe until needed.
Canada Pension - When a person who has died has worked and contributed to the Canada Pension Plan (CPP), their dependents and survivors may be eligible for certain benefits. These benefits are not automatically paid and must be applied for.
Veterans Benefits - Veterans and their families may be entitled to a number of special benefits following the death of a veteran. Such benefits may include plot allowance, burial allowance, headstone, death pension and burial flag. Since there are many different benefits and qualifications for each, it's best to discuss your particular situation with us personally.
To learn more about these and other benefits please see our section on Survivor Benefits.
Purchasing Monuments & Memorials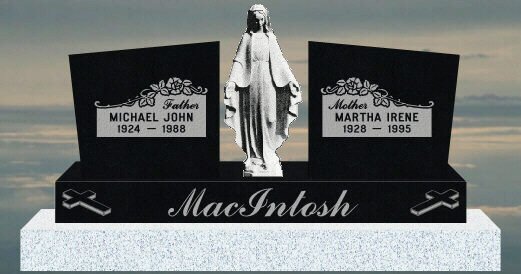 After you've determined what, if any, restrictions apply to monuments at the cemetery you've chosen, you will be able to select an appropriate memorial. Bear in mind that quality, material and craftsmanship are all important considerations in selecting any permanent memorial.
Financial Arrangements
Accepting responsibility for the future is simply prudent decision making. Pre-planning funeral and cemetery arrangements for you or someone close to you provides peace of mind and assurance that final wishes will be carried out as planned. Making decisions now saves your family the burden of making these decisions under emotional stress. The considerations are made easier with the guidance of a trusted funeral professional who knows the practicalities of pre-arrangements.
By paying for the arrangements in advance you can ensure that family members will not have to worry about finances while they are grieving. Plans can be paid in full or affordable monthly payments can be debited from your bank account. As well, you can take advantage of Revenue Canada provisions which shelter "eligible funeral arrangements" so that the income earned is tax-free.
There is no obligation for the pre-planning of one's funeral to the extent that you may record your wishes and leave it with us. At Sweeny's Funeral Home , we will be honored to discuss and arrange any payment plan to suit your family's individual situation. Please feel free to ask any questions you may have or to discuss any options that would be convenient for you.
Funds paid to Sweeny's Funeral Home will be deposited into safe keeping.
Finally, just below on this page you will find a guide to help you record vital information. It is important to complete each item listed as fully and clearly as possible.. Please remember we are available to answer any questions you may have regarding this information or funeral services in general.
A Guide to Recording Personal Information
The following information should be completed in as much detail as possible and then put in a safe place known to your family for future use.
Biographical Information:
Full name
Complete address: street, city, province, postal code
Telephone number
Place of birth: city, county, province
Date of birth
Social Insurance number
Occupation
Employed by or retired
Marital status
Name of spouse
Name of father, place of birth & date of birth
Mother's maiden name, place of birth & date of birth
Names of children, complete address and telephone number
Education, name of Elementary, High school and College
Religious Afflillation
Military service, branch, rank, serial number, date of enlistment & date of discharge
Fraternal, service and union memberships
Special Recognition's
Relatives and friends to notify: complete address & telephone number
Financial Information:
Location of will
Name & complete address, telephone number of the Executor
Name & complete address, telephone number of Attorney
Name & complete address, telephone number Accountant
List of all bank accounts, with type of accounts and the account numbers also a complete address of each bank and location of all passbooks
Safety deposit box: location of box, box number and location of keys
Insurance policies: company name, complete address, location of policy, beneficiary
Insurance advisor, name & complete address, telephone number
Securities: name and complete address with telephone number, location of certificate
Location of other documents: copies of will, birth certificates, marriage certificate, real estate deeds, mortgages and notes, income tax records, military discharge papers, automobile registrations.
Location of other valuables such as jewelry, antiques, artwork etc.
Benefit entitlements: social security, pension, veterans benefits, teacher retirement, fraternal benefits, railroad retirement, other
Funeral Arrangements:
Funeral home to contact, with complete address and telephone number
Name of funeral director
Location of pre-arrangement contract
Location preferred for services
Religious services
Officiating Clergyman, with complete address and telephone number
Military services
Fraternal services
Contact person, with complete address and telephone number
A list of all Pallbearers and Honorary Pallbearers with complete address and telephone numbers
Music wished for the service
Flowers
Memorials
A list of any other request
Cemetery arrangements, name and complete address of cemetery, location of deed, name of who the plot is in, section & plot number
Any other special instructions

Perhaps the most daunting word in the English language is "funeral". Nothing combines deep human grief with bittersweet remembrance quite like this timeless ritual, where final memories are set in amber.
Purple Shield Canada helps you crystallize those memories for loved ones left behind. We provide insurance, provided through Fortis Benefits Insurance Company, to assist you in covering your funeral costs, and a means for you to anticipate difficult funeral details. Beyond that, through our thoughtful planning materials, you'll leave behind a permanent record of your fondest moments for your survivors to treasure.
Purple Shield Canada also relieves the financial pressures of funeral and other final expenses in five distinct ways:
Control
By arranging in advance for the payment of your funeral needs, you prevent your bereaved from emotional overspending at a vulnerable time.
Tax-free benefits
Unlike traditional savings programs, the benefits paid by a Purple Shield Canada plan are sheltered.
Financial flexibility
Purple Shield Canada offers payment options from small monthly payments to one lump sum.
Inflation protection
Purple Shield Canada plans grow in value to help offset inflationary price increases.
Simplicity
The Purple Shield Canada approach is unusually thoughtful. It takes surprisingly little time with the guidance of an experienced counsellor to identify your needs. It's also simple to us. At the time of need a Purple Shield Canada plan pays immediately! Other forms of savings can be tied up for months after death.
Purple Shield Canada is a considerate, economical life insurance program to assure cash for future funeral expenses whenever the need occurs... anywhere in the world. Thus Purple Shield Canada provides beyond simple insurance. We offer assurance - a sure degree of comfort through a difficult time. No one can relieve the sting of death. But through care and planning, Purple Shield Canada can help transform a painful task into an affirming act of affection for your family and friends. It's part of how you'll be remembered.
Purple Shield Canada represents a depth of strength in final arrangements, uncommon in the insurance industry. With over $361 million of insurance in force and over 105,000 policyholders in 10 Canadian provinces, Purple Shield Canada is the premier organisation for funding pre-arranged funerals in Canada. Having been assembled over the years from several specialty companies and melded into one unified strength, Purple Shield Canada boasts over 75 years of experience assisting final expense needs. Purple Shield Canada plans are a program of life insurance underwritten by Fortis Benefits Insurance Company. A.M. Best, the world's leading provider of insurance ratings, has consistently assigned its highest ratings to the Purple Shield Canada company - an indication of our financial strength, stability and ability to pay claims. There heritage has long been to help - sensitively and effectively - and they intend it to remain so.
Proudly Serving the Communities of Bridgewater, New Germany and surrounding areas.