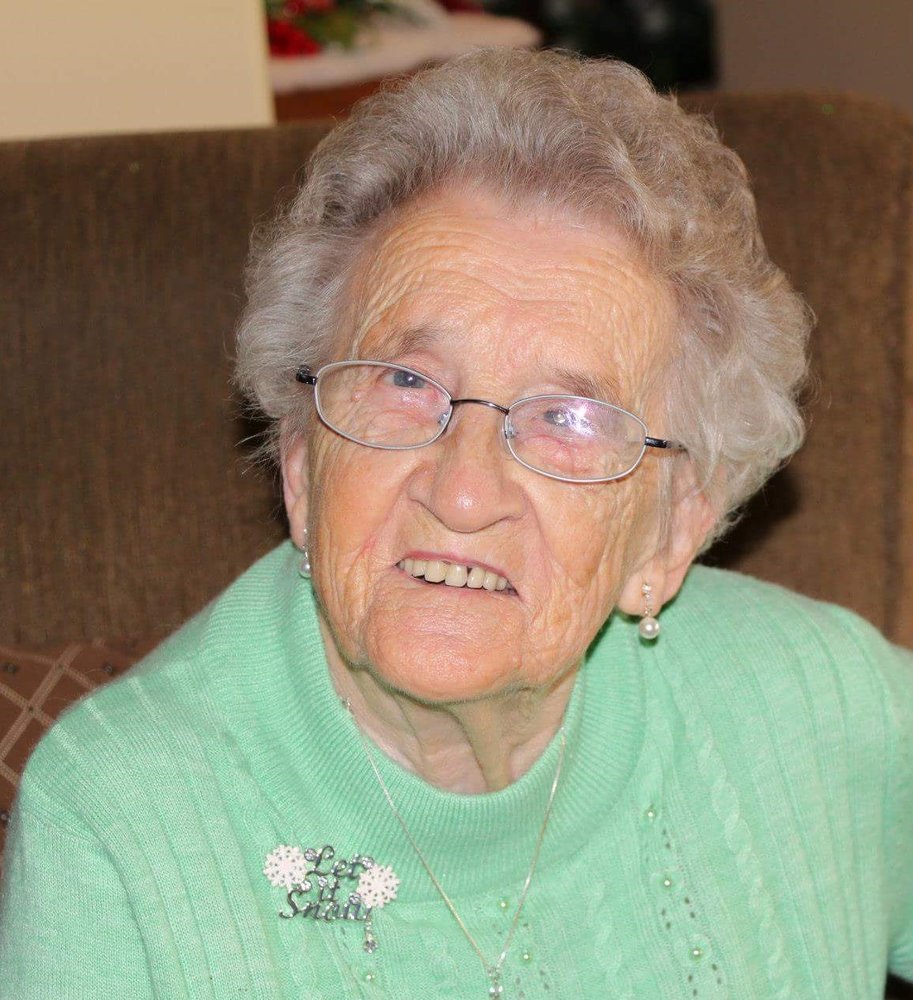 Obituary of Doris Cleversey
CLEVERSEY, Doris Mae – Age 90, of Windsor Elms Village, Falmouth, formerly of Upper LaHave, passed away peacefully on Monday, March 12, 2018 in Windsor Elms. Born on July 31, 1927 in Italy Cross, she was a daughter of the late Walter and Lottie (Slauenwhite) Llewellyn.
The world lost a tiny woman with a big heart. She was happiest when she was doing for others but her family always came first. She was more than content within the confines of her home. Never happier than when each chair at her table was full and each plate was even fuller. She always had treats for her grandchildren, especially the forbidden bubble gum. When her kids left home, seniors moved in and she had more people to help look after.
With all of Mom's medical problems, she surprised us all by living to the ripe old age of 90 and still never lost her wicked sense of humor. She could throw a zinger with ease.
You never went to her home that you didn't have a cup of hot tea and a treat. No child went to bed without a little lunch. Special thanks to Lois Oickle for the care she gave our mother in her own home. To Beverley and Jimmy Nauss for the great care and fun times she received at their home in Newcombville. Many thanks to the staff at Windsor Elms Village for making Mom's final years very loving and caring.
Surviving are her daughters, Betty Hunt, Port Williams; Beverley (Elmer) Garber, Dayspring; grandchildren, Lou-Anne (Tim) Pelletier, Sackville; Laura-Lea (Jonathan) McKay, Okatooks, Alb.; Melanie (Jan) Haakman, Summerside; Matthew (Ramona) Bagley, Chestermere, Alb.; Jeffrey (Allison) Garber, Bedford; Jason (Nancy) Garber, Bedford; great-grandchildren, Cameron Bidel, Spencer Haakman, Ethan Haakman, Lachlan Bagley, Caiden Bagley, Hugh Garber, Vera Garber, Grace Garber. Her sisters, Mavis and Joan; brothers, William, Robert and Banford and many nieces and nephews.
Besides her parents, she was predeceased by her husband, Robert Edward Cleversey; sisters, Avis, Jeanette, Jean, Loretha, Gilda, Christina, Izelda, Annie, Gayla; brothers, Samuel, Bowman, Giffin and her infant twin brother; sons-in-law, Charles Bagley and Fred Hunt.
Visitation will begin at 1 p.m., Saturday, March 24th in Sweeny's Funeral Chapel, 35 York Street, Bridgewater with funeral service at 2 p.m. Pastor Debbie Mosher officiating.
Interment will follow in Dayspring Cemetery, Dayspring. Family flowers only please, donations may be made to the IWK Health Foundation, Dayspring and District Fire Department, Inter-Church Food Bank.
On-line condolences may be made by visiting www.sweenysfuneralhome.com.