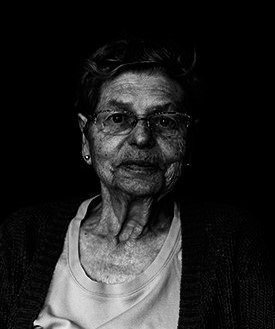 Obituary of Wilhelmina Lamberdina Vissers
VISSERS, Wilhelmina Lamberdina (Mien), age 90, passed away on May 3, 2019 in South Shore Regional Hospital, Bridgewater, NS surrounded by her family. Mien was born in Volkel, The Netherlands on June 7, 1928 to Petrus van Kessel and Johanna Verkuijlen. She married Martin in 1953 and fourteen days later they arrived in Canada at Pier 21. They lived in River John, Gays River and Second Peninsula before buying their farm in Newcombville in 1960. Mien was a member of St. Joseph's Church in Bridgewater where she served for ten years as a Minister of the Eucharist. Mien enjoyed square dancing with the Lahave River Ramblers for many years. Along with her husband, Martin, Mien is survived by her four children: John (Kathy), Henry, (Michele), Joan (Glenn Durnford) and Michael (Christine Brandes). She was Oma to12 grandchildren: Julie (Devan), Christopher (Simone), Anne (Mackenzie), Thomas (Jennifer), Denise (Hugo), Andrew, Daniel, Mathias (Brittany), Samuel, Elizabeth, Laurel and Aidan and 10 great grandchildren: Sam, Zoe, William, Logan, Maddie, Hunter, Callie, Carson, Austin and Ryder. Mien is also survived by two sisters, Jo and Annie, and three brothers Caspar, Arnold and Martin.
Mien was a voracious reader and was excellent at crosswords, even though English was her second language. Mien's body has been donated to Dalhousie University Department of Anatomy and Neurobiology. This is in keeping with her desire to go to university one day.
A huge thank you to those who provided mom with wonderful health care including: Dr. Rick Kydd, Lorri Giffin, NP, Dr. Anne Chaisson and the kind and compassionate nursing staff at South Shore Regional Hospital, 3rd Floor.
There will be no visitation. A Memorial Mass will be held at 11:30 a.m. on Wednesday, May 8th at St. Joseph's Roman Catholic Church, 123 Pleasant Street, Bridgewater, NS, Father Jim O'Connor officiating. Reception to follow in the Parish Centre. Family flowers only. Memorial donations may be made to Kiwanis Golden "K" Senior Wheels, South Shore Regional Hospital or a charity of your choice.
Rust zacht in de hemel.