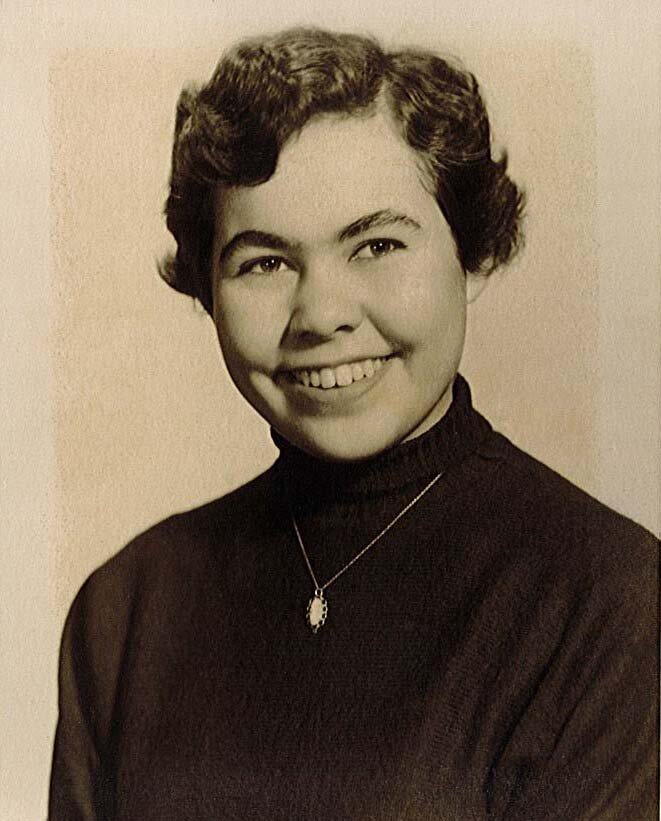 Obituary of Sheila Anne Whitman
The family of Sheila Anne Whitman (McKim) of Bridgewater, Nova Scotia announce her peaceful passing on Monday, January 17, 2022, at the Fisherman's Memorial Hospital in Lunenburg, NS surrounded by the knowledge that she was loved by her family.
Born on July 12, 1937 in Amherst, NS, Sheila was the youngest child of the late E. Roger and Inez McKim. Sheila spent her early years growing up in Brookdale, NS with her brother and sisters who fondly called her 'Dear'. The story goes that when Sheila was born her brother Larry, hoping for a brother, did not want anything to do with her. Finally, when he looked at her face he remarked 'Oh, what a Dear!' The name stuck and many a letter and postcard began, Dear dear…
The family moved to the city of Halifax when Sheila was a teenager, where she attended Queen Elizabeth High School and graduated from Halifax County Vocational High School in 1955 with a degree as a Stenographer. This was the same year she met Harry Albert Whitman at a church skating event held on Chocolate Lake. Harry arrived with another young lady, who was also a friend of Sheila's and left with Sheila! They eloped and married on August 18, 1956 in a small church in Port Elgin, New Brunswick with her friend as one of the witnesses.
Sheila worked as an Editor & Proof Reader with Canadian Broadcasting Corporation for her first career. Sheila and Harry bought their first home in Lower Sackville during these years and in 1961, making $1.50 per hour- a good wage at that time, left her job to start a family. Harry Malcolm led the way with Kim, Wanda and Darren pulling up the rear. Her most cherished role was that of being a "Mom".
The years in Lower Sackville were busy years. In addition to raising four children, Sheila was an active volunteer in the community. Though she did not have her license, it was not uncommon to find her walking the neighborhood canvassing for the Heart & Stroke Foundation or other worthy causes. Sheila was also a member of the Knox United Church; both part of the Ladies Auxiliary helping with many events including the production of two cookbooks; and as the Choir Director. Sheila was often a featured soloist and asked to share her musical and cooking talents for many community organizations and events. If you ask any child growing up in Lower Sackville during the 70's they will remember Sheila as the community dinner bell – singing "Malcolm, Kimberley, Wanda, Darren come for dinner" the same time every evening. All playing stopped and every kid knew it was time to head home for dinner.
Sheila fed a lot of neighborhood kids; teaching not only her own children to cook and bake, but also empowering others to learn as well. Her motto was "there are more spices than salt & pepper" and it was "okay not to like something but you had to try it first". She was less enthusiastic about dusting and vacuuming, two tasks she never grew to like. She also taught her children how to be independent, respectful and fearless and she led by example.
In 1976, the family moved to Blockhouse where her second career began. With no public transportation, she had no choice but to get her license if she wanted to return to work. She did, and promptly got a position as an administration assistant for Standard Life where she worked for a number of years. She also became an active member of the Blockhouse Volunteer Fire Department Ladies Auxiliary.
When the restaurant at the 'four way stop in beautiful downtown Blockhouse' came on the market she decided she should use her talent of "turning a soup into a casserole" to good use and purchase the business. When the bank was not willing to loan her the funds without her husband as a co-signer, she found the funds through other means and solely opened and successfully operated The Dandy Lion Café. Known as "Mama Whitman" to her staff, she provided many a young person a chance to build their confidence and gain valuable work experience, giving many their first chance at employment. Sheila sold the business in 1986 and continued to offer her renowned cooking, baking and catering skills by supporting a number of local businesses in the County.
In 1990, another business opportunity presented itself and she purchased a small café located in the Medical Arts Building in Bridgewater. Naming herself the BC (Big Cheese), she began perfecting the recipes still used in the Café to this day. With the slogan, "food so fresh it will make you blush", she opened…and Everything Nice Café & Catering which she operated until her retirement leaving the business in her daughter's capable hands. Now in its 32nd year under the ownership of her youngest Wanda and husband Cecil Haughn the same care to ensuring food is homemade remains unchanged.
After Harry and Sheila moved to Bridgewater in 1993, Sheila found new friendships and opportunities. When not working, she could be found enjoying her gardens and the many bird that visited her flowers, spending holidays with Harry at their peaceful cottage Fiddlers Green located on the Tidnish River, cards on Friday nights with the Haughn's, Co-choir directing with Cecilia at Westside United Church where she also served as an Elder for several years, going to yard sales (she was also known as YSQ – Yard Sale Queen); doing crossword puzzles in pen, watching Jeopardy, playing any board game someone was willing to play with her, going to auctions and bidding on the mystery boxes no one else would bid on…a number of those treasures can be found to this day decorating the walls and shelves of the cottage; baking and cooking for the family and proudly saying she could BBQ anything and then proving it.
Being a grandparent also filled Sheila' heart with joy. Known as "Nanny", "Grammie" and "Big Nanny", she loved all five of her grandchildren and two step-grandchildren and was equally proud of all, saving any news article, card, handmade drawing or gift as a "keepsake" to cherish.
Unfortunately, when mom did retire, her mobility started to decline. The last number of years were painful ones for her. An avid reader, she filled much of her time with good books until it was too difficult for her to read. Her best friend was her dog Muggins, who she had many a conversation with and who she insisted called her "Settah".
Sheila was admitted to hospital in late September 2021 and would not return to her home. The family wishes to thank Dr. Heather Roberston at South Shore Regional Hospital, the staff of Floor 1 at Harbourview Haven and the medical staff at Fisherman's Memorial Hospital Emergency & Medical wing. A special thanks to the nursing staff who helped make Sheila's last hours comfortable and without pain.
Sheila is survived by her loving husband of 65 years Harry A. Whitman; her children: Harry (Malcolm) and his wife Pam, Oakhill; Kim Whitman-Mansfield, Bridgewater; Wanda and her husband Cecil Haughn, Lahave; and Darren and partner Nancy Chisholm (Bridgetown). She also leaves behind her grandchildren Megan, Chantel, Briana, Colton and Bradford and her step-grandchildren Melissa and Amanda; her sister-in-law Sylvia Goulden and her beloved dog Muggins.
She was pre-deceased by her parents E. Roger and Inez McKim; brother Larry McKim, and sisters Beryl Woollard, Elizabeth Latham, and Shirley Dawn McKim, and her son-in-law Carleton Mansfield.
Arrangements have been entrusted to Sweeny's Funeral Home, Bridgewater. A graveside service will be held 2 p.m., Thursday, August 11, 2022 in West LaHave Cemetery, West LaHave. In lieu of flowers, memorial donations may be made to the Heart and Stroke Association of Nova Scotia or a charity of choice. Online condolences and donations may be made by visiting www.sweenysfuneralhome.com.