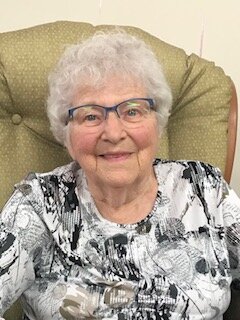 Obituary of Norma Louise Bushen
Bushen, Norma Louise (92) – It is with deep sadness that we announce the passing of our Mom, on January 31, 2022 at South Shore Regional Hospital, Bridgewater. Born in Boston, Massachusetts, October 2, 1929, she was the daughter of the late Ralph and Mildred (Ernst) Vannah. Norma's parents became ill when Norma was a toddler, and was then raised by her grandparents, the late Wallace and Maude Ernst in West LaHave, NS. Norma was predeceased by her husband, Earl Norman (2010), son Michael James (1997) and her granddaughter Anna Louise (2017).
She is survived by her daughters Sherrie Bushen and Karen Wile, daughter-in-law Wendy Naugler Bushen, grandsons Steven Dorey, Adam Bushen (great grandchild Jade), Ashley Bushen (great grandchild Emmett) and special niece Linda Herman.
Mom lived her life by the golden rule - "Do unto others as you would have them do unto you." That is a testament to the many friends that she has held over the years. The smell of fresh baked goods would bring those from near and far for gatherings around the table. Her door was always open and welcoming. Mom had a strong faith and was an active member of the Bridgewater United Baptist Church. She enjoyed her Book Club and Bible Study and going to Pizza Delight afterwards for laughs and great food. Thank you to the Pizza Delight staff for always having a table reserved. Those were special times that created great memories. As many of you know Mom was an avid scrabble player. Many games were played, and many games were won! Thank you to the staff and all her friends at Drumlin Hills for 12 wonderful years of good times and fellowship. She loved her apartment and spent many warm days sitting on her balcony feeding the hummingbirds. She enjoyed talking to her neighbours who lived above her and beside her. She loved Thursday church and coffee time where she met new friends. Mom met her "bestie" Verna when she was 80 and they spent many days together playing scrabble. She always said it was never too late to make new friends.
Mom loved unconditionally and her door was always open for a cup of tea, conversation, and a hug. It is difficult to recognize all her friends but special thanks to Sue and Cathy. She loved you both so much and was privileged to have your friendship for so many years. Thank you to all the girls in the Bible Study group. Your friendships were very special to her. For Mom, her friends were for life, and she wanted everyone to know how much she loved them. She will be missed tremendously by her family and friends.
Special thanks to Dr. Dianne Edmonds. Your kindness to Mom was always sincere and appreciated. Mom thought of you not only as her doctor but as her friend. Thank you to Dr. Heather Robertson and the staff on the 3rd floor SSRH. It is very difficult to be in the hospital during a pandemic, but you made sure Mom was well taken care of. Arrangements have been entrusted to Sweeny's Funeral Home, 35 York Street, Bridgewater. Memorial service will be held 1:30 p.m., Saturday, June 18th in Bridgewater Baptist Church. In Mom's memory, donations may be made to the Salvation Army and / or the Bridgewater Interchurch Food Bank. Online condolences and donations may be made by visiting www.sweenysfuneralhome.com.
"From the Tree of Life each leaf must fall,
The green, the gold, the great, the small.
Each one in God's own time, He'll call,
with perfect love, He gathers all."