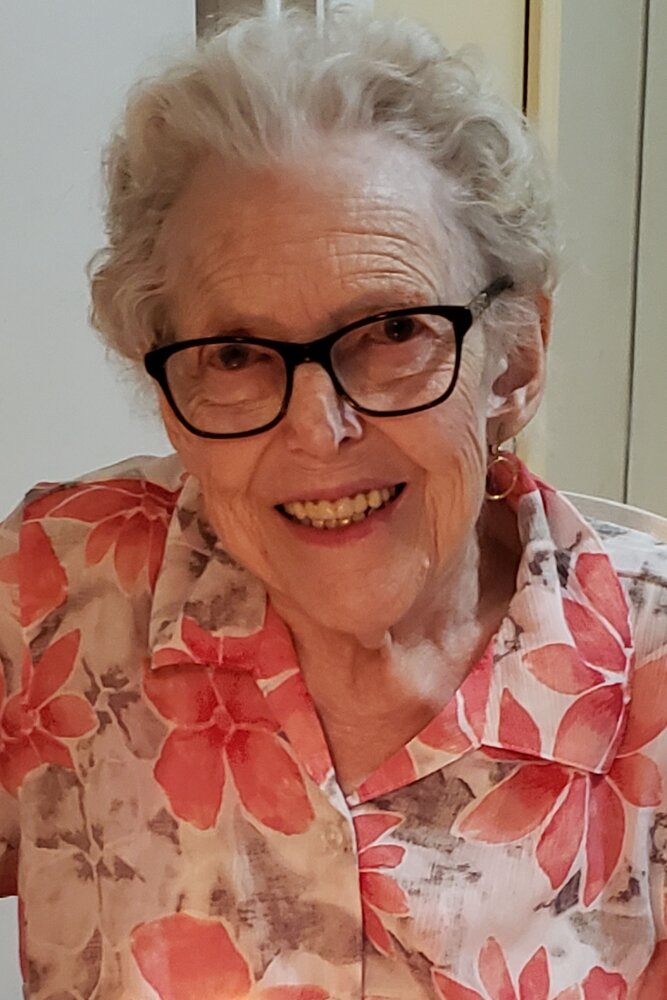 Obituary of Jeanie Evelyn Oickle
Jeanie Evelyn Oickle
It is with heavy hearts that the family of Jeanie Evelyn (Mader) Oickle, formerly of Pine Grove, announce her peaceful passing with family by her side at Rosedale Home for Special Care, New Germany Nova Scotia on July 28, 2022, at the age of 86.
Born on May 30th, 1936, in Branch Lahave, N.S., Mom was the first born to Otto and Arleen (Knox) Mader.
Mom lived a good life! As a child she moved with her parents to live in Pine Grove, attending the one room schoolhouse there and making some lifelong friends.
Mom met Dad, Earling Oickle and they later were married on June 23rd, 1954.
They built a home together in Pine Grove in 1955 where they raised 5 children. There was never a day we didn't have a cooked supper on the table, never a birthday without a cake and wrapped gifts, never an Easter without baskets of goodies and special-colored eggs that the "Easter bunny" hid for us to find. For Christmas there were always overstuffed stockings for us all, and more gifts than we ever needed. Mom made sure of it!
Besides being a wife, mother and homemaker Mom had many hobbies over the years. Mom was a great cake decorator, baking and decorating cakes for many birthdays, weddings or any other celebrations that required one. She was a self-taught seamstress making us clothes when we were young and even dresses for some of our weddings. Mom enjoyed watching and feeding the birds, making sure they never went hungry. She liked flowers of every kind and enjoyed gardening. She had many beautiful gardens over the years which she loved to show to friends and family on the walk to their car after a visit. Mom also kept detailed diaries most of her life, not only writing about her life but also of her family's lives, often staying up late sitting at the kitchen table writing to "get caught up" on the day's events. The biggest of Mom's hobbies certainly was her love of taking pictures. She seldom went anywhere without her camera! A hobby she felt she inherited from her grandmother. She also enjoyed a good lexicon puzzle and watching The Price is Right.
Mom unfortunately suffered a stroke last November which caused her to lose the ability to do many of the things she enjoyed in life. After a lengthy hospital stay following the stroke, Mom was moved to Rosedale Home for Special Care in New Germany where she resided until her passing.
A loving and caring Mother, grandmother, and great-grandmother, she is sadly missed by her son, Louis (& Janie) Lorneville; daughters, Joanne Naugler, Pine Grove; Pauline (& Shayne) Hanson, Simms Settlement; Pamela (& Pierre) Bachand, Middle Cornwall; Jennifer (& Trevor) Barry, Maitland; grandchildren; Stephanie Tibbo, Davin Naugler, Patrick Naugler, Sydney Crouse, Adam Hanson, Christopher DeBruin, Dylan DeBruin, Ryan Barry, Amber Barry and step-grandson Chris Goodwin; great-grandchildren, Rose, Max, Ben, Lila and Sophie. Also surviving is Mom's brother Gary (Annette) Mader. Mom also leaves behind her 2 beloved kitties Num-Nums and Scampers, who have both been adopted by family members.
Besides her parents, Mom was predeceased by Dad, Earling Oickle her husband of 45 years, before his passing in 1999, sister Barbara Keddy and son-in-law Gregory Naugler.
The family would like to thank the caring staff at Rosedale for all they did for Mom in her last days. We wish she would have had more time to get to know you all.
Arrangements have been entrusted to Sweeny's Funeral Home, 35 York Street, Bridgewater. There will be no visitation by request. Funeral service will be held 2 p.m., Wednesday, August 3rd in Sweeny's Funeral Home, Bridgewater, Rev. Ivan Norton officiating. A private family interment will be held following the service. Flowers are greatly appreciated. In memory of Jeanie, memorial donations may be made to S.H.A.I.D. Animal Shelter, Bridgewater United Church, Pine Grove Cemetery, or a charity of choice. Online condolences and donations may be made by visiting www.sweenysfuneralhome.com.
Mother, you were just a girl,
So many years ago.
You had your loves and had your dreams,
You watched us come and go.
You watched us make the same mistakes,
That you had made before,
But that just made you hold us tight,
And love us all the more.
We haven't always thought about
The things that you have seen.
To us you've just been 'Mother',
No thought of who you've been.
But we remember now in love,
Your life from start to end,
And we're just glad we knew you,
As Mother, and as Friend.
-author unknown