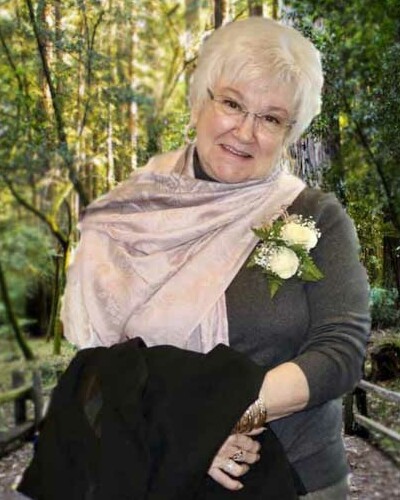 Obituary of Linda Isabel Steeves
Steeves (Oickle), Linda Isabel - Age 75 of Conquerall Mills, left this earth January 7, 2023, at the South Shore Regional Hospital, Bridgewater. Linda was born in West Northfield on April 7, 1947, to the late Wesley and Leda (Arenburg) Oickle; the youngest of 12 siblings. Linda grew up in the same area, leaving at times to explore the world, only to return to meet her RCMP spouse, Dennis, whom she supported and loved fiercely. Their adventures brought them to various parts of Nova Scotia and Ontario, retiring back to the South Shore in 1994.
Linda was a well-known personality at M&M Meat Shops for almost 20 years; a retirement job that she loved as it gave her the opportunity to chat with everyone who came through the door. She was a very social person and took a genuine interest in the lives of those around her. Linda had a beautiful heart and spirit; grace and class and could be a spitfire when she needed to be. Linda was funny, with a warm smile. Her positivity and absolute strength in the face of the exceptional challenges in her life were well-known by her family and friends. She was a fabulous cook; able to whip together all of the Lunenburg County favourites and large gathering meals, without a recipe. She loved her family above everything. She was a beautiful soul, who left the world too soon.
Linda will be deeply missed by her daughter, Sheena (Joby) Reid; sisters Sylvia (Del) Thimot and Alice Conrad; sisters-in-law Julia and Marci Oickle, and her many nieces and nephews. Besides her parents, she was predeceased by her loving husband, Dennis; sisters: Grace, Betty, Doris, and Ethel (died in infancy); brothers: Clyde, Fred, Paul, and Murray (died in infancy).
A Reception in Celebration of Linda's life will be held 2 – 4 p.m., Saturday, January 14, 2023, in Sweeny's Funeral Home, 35 York St., Bridgewater. A private family interment will take place at a later date. Donations in Linda's memory may be made to a charity of choice.
The family would like to thank the phenomenal doctors, nurses and staff at the South Shore Regional Hospital, Bridgewater for their amazing care and support received leading up to and during Linda's last days. Thank you is not enough. Special thank you to members of the Nova Scotia Heath Authority Palliative Care team: Kim, Louise, Amy, and Susan and to Dr. Weagle for their unwavering care and support to both Linda and her family. Thank you to the team at the QEII Cancer Centre: Dr. Thana and April, her many surgeons and staff, and the team at the Bridgewater Oncology Unit and the Ambulatory Care Unit for your love, care, and humour.