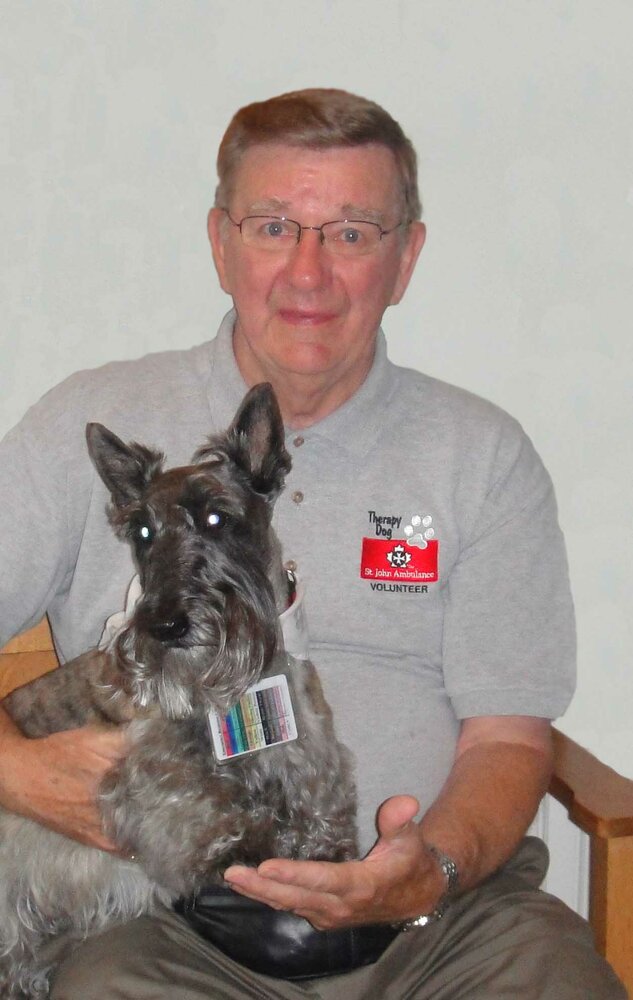 Obituary of Donald Charles Robertson
The family of Donald Charles Robertson, aged 87 of Bridgewater, N.S. are deeply saddened to announce his passing on March 27, 2023 at South Shore Regional Hospital, Bridgewater.
Don's career in Nova Scotia began in 1971 at Michelin in Granton after he completed the training program in France.
Family, friends, and volunteering were all very important to him. During his time in New Glasgow, he was actively involved in Boy Scouts with his sons. The Gyro Club and Trinity United Church benefited from his many talents as a volunteer.
In 2005 Joyce and Don moved to Bridgewater. He continued to golf and curl and meet new friends. Don's favourite volunteer activity was going to South Shore Regional Hospital weekly with his beloved Scottie dog "Bridget" who was a St. John Ambulance Therapy dog. The family found comfort in Don's final days reminiscing about their visits. Driving the Senior Wheels bus in Bridgewater was another enjoyable volunteer commitment.
Don is survived by his very beloved wife Joyce of 63 years; sons, Donald "Donnie" (Melinda); Scott (Patti); grandchildren, Nicholas (Samantha), Brett (Cali), Leah (Michael) and Andrew (Josie); great granddaughter, Nevaeh; sister, Betty (Bob) Hatcher. He was predeceased by his parents Stella (Simpson) & Wilbert Robertson of Hamilton, Ontario.
A Celebration of Life will be held at The Best Western Hotel in Bridgewater on April 8, 2023 from 2 - 4 with "Reflections of Don" at 3:00 pm. Interment to follow at 5:00 pm at Brookside Cemetery, Bridgewater, NS.
In lieu of flowers donations can be made to South Shore Hospice Palliative Care Society or St. John Ambulance Dog Therapy Program. Arrangements entrusted to Sweeny's Funeral Home, 35 York Street, Bridgewater where online condolences may be made by visiting www.sweenysfuneralhome.com.