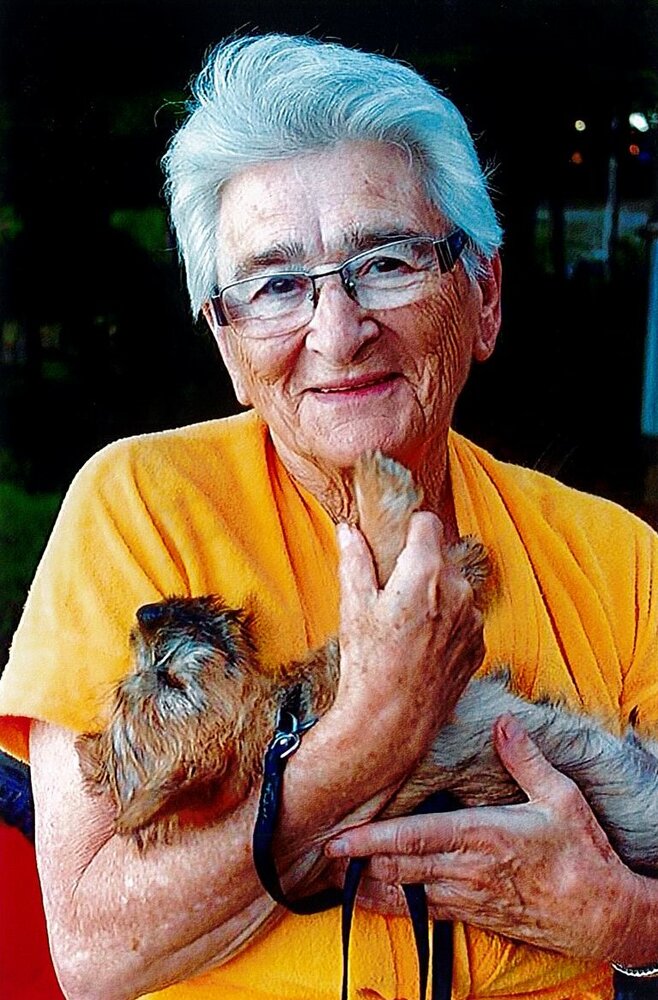 Obituary of Edythe Marina Bell
Edythe Marina Bell, wife, mother, grandmother, and great grandmother passed away at Harbour View Haven on April 15th, 2023. She was the daughter of the late Rev. Parker and Elsie Corbin. Edythe was predeceased by her brothers George, Murray, Harry, Robert and sisters Ella and Elizabeth. She was born in New Ross, and she lived there for the first eight years of her life. The following years she lived in Conquerall Bank with her family, and she attended high school in Bridgewater. She worked as a telephone operator until she married Robert Bell in 1953. She had a very busy life as her husband was a career seaman, leaving her to be both mother and father to their five children. Bob and Edythe raised their children in Conquerall Bank and for a short two-year period in Upper LaHave. Once all the children were old enough to attend school she worked part-time at King Street Radio Cafe, Langilles' Print Shop and Zellers Dept Store. She was also very proud to be a giving volunteer member of the community. In 2000 she was honored to be recognized as MODL's Volunteer of the Year by the Nova Scotia provincial government. She was an active member of St Augustines Anglican Church for 45 years and a 6-year President of the Bridgewater Womens' Institute. In recent years she attended church services at the Pleasantville Baptist Church until she relocated to Harbour View Haven Home for Special Care in Lunenburg. She was a member of the Atlantic Rebekah Lodge # 52 and held numerous offices including Noble Grand. She was a life member of the Royal Canadian Legion Axillary Branch #24. She was a 51-year member of Conquerall Bank Fire Department Auxiliary. She was a 5-year board member of the Lunenburg Regional Housing Authority until the board was dissolved. She was a past President of the Lunenburg West PC Women and past Vice President of the Nova Scotia PC Women. She was a dedicated worker for 30 plus years at the South Shore Hospital Auxiliary thrift store – The Daisy. She was a volunteer helper for the Golden K organization.
Her hobbies included baking, knitting, quilting, sewing, painting, gardening, and bowling, however she often remarked that raising her children was her greatest accomplishment. Once Robert retired, they both enjoyed square dancing with the LaHave River Ramblers dance club. As her children grew older Edythe had the opportunity to travel. She travelled to the bottom tip of South America and to Iqaluit in the Canadian North. She visited numerous countries in Europe, Mexico, and several states in the US. She travelled across Canada and was a member of the Order of Good Times in Newfoundland and Nova Scotia.
Edythe was pre-deceased by her husband Robert of 66 years. Edythe is survived by her daughter JoAnne Corkum (Douglas) Coldbrook, son Martin (Cheryl) Conquerall Bank, daughter Karen Whynot (Reid) East LaHave, daughter Marilyn Neily (Tim) Pleasantville, son Peter (Bridgit) Halifax. She is survived by her eleven grandchildren Kristen Corkum, Anthony and Andrew Bell and Genoa Beal, Christopher, Stephen and Jamie Whynot, Jonathan and Colleen Neily, Parker, and Jennifer Bell. Great Grandchildren are Leighton Trenholm, Liam and Lars Bell, Adalyn Bell, Owen and Wesley Whynot and Vincent Whynot, Flora Beal, and Emmy Neily.
Funeral arrangements have been entrusted to Sweeny's Bridgewater Funeral Home, 35 York Street, Bridgewater. There will be no visitation as cremation has taken place at the request of the family. A public funeral service will take place at the Pleasantville Baptist Church on Friday, April 21st at 11 a.m., with a reception to follow. (Masks are not required but encouraged). Pastor Richard Moore will be officiating clergy.
The family would like to thank staff at the Harbour View Haven Home for Special Care and Dr. Eta Raymond for their kind professional care extended to our mother. In lieu of flowers memorial donations may be made to the Conquerall Bank Fire Department, Pleasantville Baptist Church, the Alzheimer Society of Nova Scotia, or a charity of your choice. Online condolences and donations may be made by visiting www.sweenysfuneralhome.com.