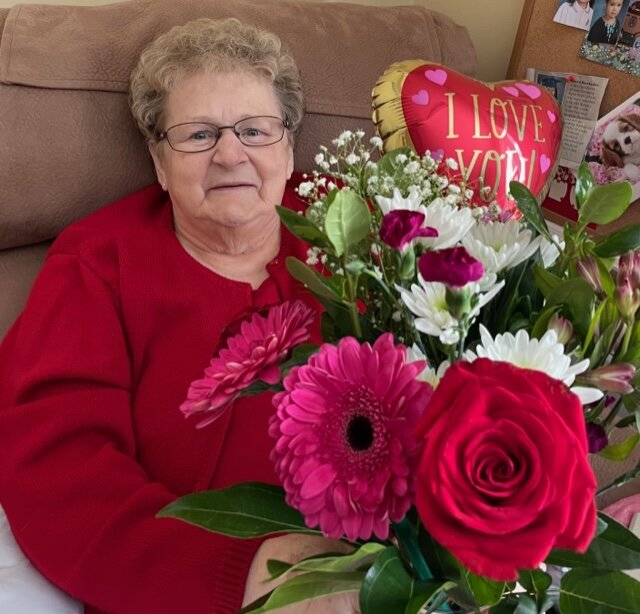 Obituary of Margaret Elaine Godfrey
Margaret "Peggy" Elaine Godfrey - Age 82 of Bridgewater, passed away peacefully on Saturday, May 6, 2023 at Ryan Hall, Bridgewater surrounded by lots of love and compassion.
Born in Bridgewater Peggy was the daughter of the late Ruben and Helen (Joudrey) Daniels. She is survived by her husband Michael Godfrey, Bridgewater and daughters, Joanne (Kenny) Zinck, Debbie Milberry, Darlene (Ross) Rhodenizer, Dawn (Trevor) Fancy, Stacey Godfrey. She also leaves behind 6 grandchildren, Melissa, Matthew, Emma, Tristan, Noah and Jenna. Besides her five girls she was also a Nanny to Tingi, Jonathan and Tia Ko, whom she will be sadly missed by.
She was predeceased by sisters, Beverly, Ruth, Shirley, Jean and Pearl; brothers, Richard, Jimmy, Harris, Dougie, and Normie Daniels; son-in-law, Mark Milberry. Peggy was the last surviving sibling of 11 children.
Mom was very much a homebody and enjoyed being at home in which she loved things to be need and tidy. She especially loved when family came to visit her and would bring her gifts, mostly loved getting new clothes as she took so much pride in her appearance. She enjoyed daily chores and making meals must not forget that neatly folded laundry. Her family will always remember how much she loved Christmas and making it special for them by making sure the house was fully decorated, gifts to open and having made the best turkey dinner in which all the family would all gather. Her true love was shopping, whether it be Frenchies or when a car was heading into the city....she was sure to be in it for a day of shopping. The last several years she really looked forward our visits and definitely her nightly phone calls.
Memorial service will be held 2 p.m., Thursday, May 11, 2023 at Sweeny's Funeral Home, #35 York Street, Bridgewater, with Pastor Paul Jensen officiating.
The family would like to give a very special thank you to the staff at Ryan Hall for all the love and kindness that they shown our mother and wife.