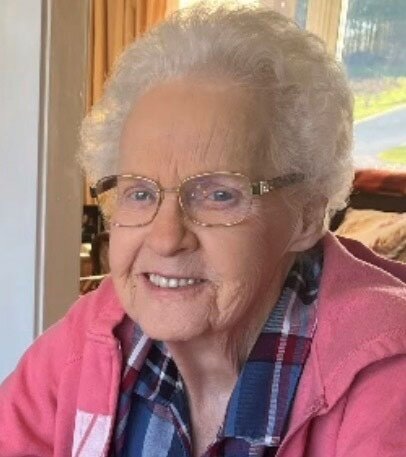 Obituary of Wynnann Theriault
THERIAULT, Wynann (Ann) - passed away Tuesday, June 27, 2023, at Northumberland Hills Hospital, Cobourg, Ontario, with her daughter by her side.
Wynann grew up in Saskatchewan with her two sisters, Bev and Helen and her parents, Ivan and Beatrice Brown. She met the love of her life Frank Theriault in the air force in Winnipeg MB. They had their only daughter Jackie in 1961. The family left the armed forces in 1964 and settled in Oshawa for almost 30 years.
Wynann was very involved with Girl Guides of Canada, which afforded her many adventures and life-long friendships. She was affectionately known to many in the organization as "Mrs. T." She worked in Children's Wear at Eatons in the Oshawa Centre for many years.
Retirement led Wynann and Frank back to Nova Scotia and Frank's hometown of Bridgewater. While living in Nova Scotia, Wynann continued to share her Guiding experience as well as her musical talents. She was an amazing piano player who played by ear and had perfect pitch. With the help of The Lunenburg Fiddlers Club, she learned to play fiddle in her 70's and could often be found on stage entertaining communities on the South Shore and at Senior's Homes.
After her husband Frank's death, she bravely made the trek back to Ontario to be close to her daughter and her Port Hope family. She was very proud of her grandchildren and their academic accomplishments.
Wynann is survived by her daughter, Jackie Nicholls (Doug); grandchildren, James and Robin; her sister, Bev Obrigewitsch as well as a host of nieces and nephews in Nova Scotia, Saskatchewan, Alberta and British Columbia. She will be greatly missed by many close friends in Ontario and Nova Scotia.
Many many thanks from the family to the staff at Northumberland Hills Hospital, Cobourg ON, especially Nurse Practitioners Anita and Dimitri. A heartfelt thank you to Roseglen Village in Port Hope, for their efforts in making Wynann's transition from Nova Scotia to Ontario Retirement Living, a joyful experience.
Mass of Christian Burial will be held 11 a.m., Wednesday August 16th at St Joseph's Roman Catholic Church, Pleasant Street, Bridgewater with Father Keith Billard officiating. Private family intement will follow in St. Joseph's Ceemtery, St. Philip's Street, Bridgewater. A reception will follow the Mass in St. Joseph's Parish Centre, next door to the church.