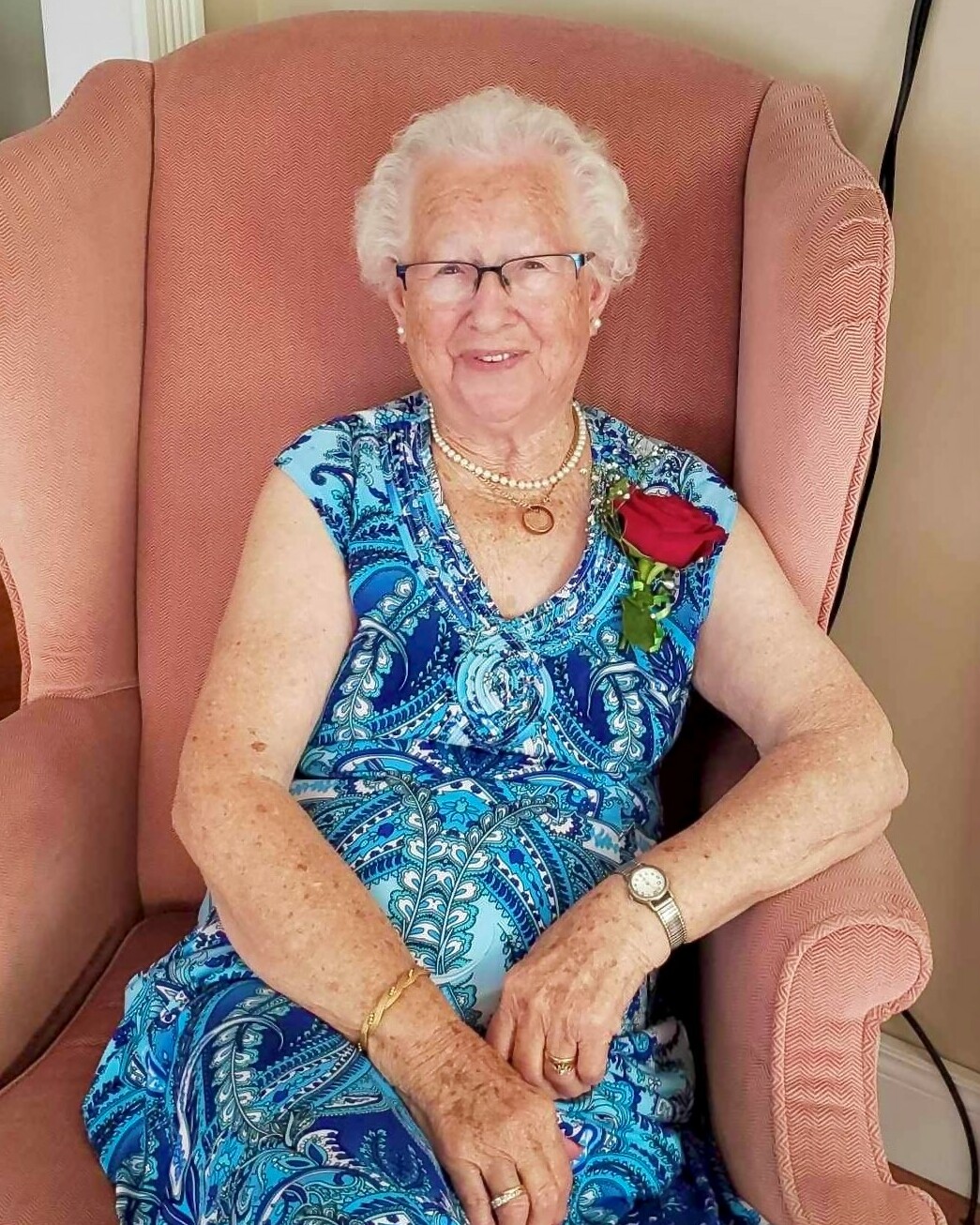 Obituary of Bessie Suzanna Parsons
Bessie Suzanna Parsons
July 25, 1927 – July 26, 2023
It is with immense sadness that the family of Bessie Suzanna Parsons, age 96, of Bridgewater, announce her passing at the South Shore Regional Hospital on Wednesday, July 26th. Born in Dawson's Cove (Sandyville), NL on July 25, 1927, she was a daughter of the late Frederick and Winnifred Anderson.
She was predeceased by her loving husband, Capt. Albert W. Parsons: her son-in-law Gerald Holmes; sisters Marty Crewe and Carrie Crewe; brothers Jack Anderson and Lew Anderson and many brothers and sisters-in-law.
She lived a life of selfless devotion – caring for others above herself. Our Mother spent her life providing a loving, caring home for her husband, and children – a place where we all felt loved and secure. She would often tell us that she didn't have much to give us, but she had an abundance of love. We knew the power of her hugs and kisses and the warmth of her smile– it made all the difference in the world. Her family was her world and she always wanted us around her. Mom believed in the power of prayer and put her faith and trust in God.
She worked hard all her life and was never one to sit idle. She loved to go on picnics and cook over an open fire. She was a gatherer and loved to pick berries, harvest vegetables, and preserve them in bottles. We often joked that we would never go hungry because Mom had all the food groups bottled and preserved in her cold room. She was famous for her cooking and baking, and her grandchildren knew where to find a stash of her treats when they visited.
She loved playing cards anytime of the day, especially later in her life. She and Dad would play cribbage all the time and the year that she scored the perfect 29 hand against him, he danced her around the kitchen. Her garden of roses and begonias were her pride and joy in the summer months. She enjoyed knitting and spent so many hours producing socks and mittens for everyone. Mom was especially proud of her accomplishments with her needlepoints that dad happily framed for her.
She is survived by her children: Winnie (Robert) Rodenhiser, Anne (late Gerald) Holmes, Katie (Jim) Richardson, Rhona (Danny) Carey, Valerie (Jeff) Whynacht, Albert (Jacquie) Parsons – grandchildren: Cynthia (Kevin) Eisner, William (Angie Wamboldt) Rodenhiser, Kimberley (Trevor) Cudmore, Angela (Ryan) Conrad, Tanya (Kris) Baker, Sarah (Jim) Floyd, Benjamin (Kate) Richardson, Cathy (Alasdair Campbell) Carey, Samantha (Daniel) Carmichael, Matthew (Stacey) Ernst, Stephen (Lynn Misner) Ernst, Ivy (Patrick Allard) Parsons, Maggie Parsons: - great-grandchildren: Mackenzie Eisner, Tristan Eisner, Noah Rodenhiser, Savannah Cudmore, Jett Cudmore, Meghan (Evan) Warawa, Carter Conrad, Gavin Baker, Sadie Baker, Nolan Floyd, Cheyenne Richardson, Adrienne Richardson, Annie Richardson, Maddie Lewis, Clara Lewis, Reese Carmichael, Carey Carmichael and Brixton Ernst. She is also survived by her brothers Hubert Anderson, Lunenburg, Leonard Anderson, Hermitage, NL; sisters Kathleen Howlett, Hermitage, NL, Melita Rose, St. John's, NL and Grace (Gerald) Combden, Grand Falls Windsor, NL and many nieces and nephews.
Our family wishes to send out a big thank you to the Doctors, Nurses, and support staff at the South Shore Regional Hospital for their care of Mom. She told them on her arrival at the hospital that she would love to reach her 96th birthday and they did all that they could to ensure that it happened. Thank you from the bottom of our hearts and in Mom's words, "God Bless you All".
"When I think of you, I think of kindness, wisdom, and love. Thanks for being you."
Arrangements have been entrusted to Sweeny's Funeral Home, 35 York Street, Bridgewater. Funeral Service will be held 11a.m., Monday, July 31, in St. Peter's Anglican Church, Pentz. In lieu of flowers, a donation can be made to St. Peter's Cemetery, Pentz, or South Shore Regional Hospital, Bridgewater. Online condolences and donations may be made by visiting www.sweenysfuneralhome.com.