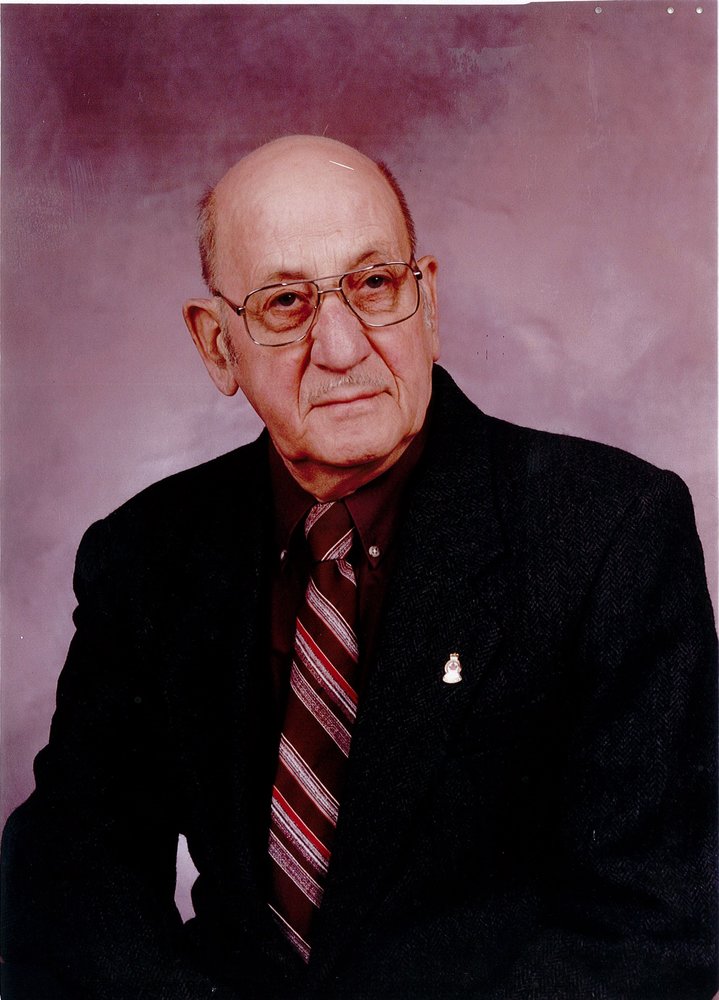 Obituary of R. Maxwell Russell
RUSSELL, R. Maxwell – of New Germany, Lunenburg Co., had a wish to be with his wife, Gladys and that was fulfilled on Saturday, April 29, 2017. Max was the eldest child of the late Carl and Vera (Woodworth) Russell. He was born at home in Simpsons Corner, Lunenburg Co., on August 10, 1920.
Dad didn't have much of an education, having left school in grade 9, but he etched out a career, worked very hard, brought up six children, teaching them that hard work did not hurt anyone. Dad's first paying job, at 15, was picking apples in Morristown, in the Annapolis Valley. As a young man, he worked with his father, Carl, travelling to Musquodboit during Christmas tree harvest season. He worked for the Mersey Paper Company chopping, peeling and hauling logs with the help of his horse, Jock; cooked on occasion in the Mersey camps in the Lake Rossignol area as did his two brothers, Bradford (92) and Edgar (90). In the spring he worked driving pulp down the Mersey River to the pulp mill. Dad went on to apply his carpentry skills building seasonal camps for the paper company. In August of 1948, Dad and his friend were waiting at the train station in Hemford, just to see who was getting off. A slender, dark-haired, well dressed young woman departed the train. Both men offered to drive her to the boarding house but only one had a car, and his friend drove the young lady to her destination. The men were rivals for her attention; soon after Dad's persistence paid off, having the full attention of the "new school teacher", Gladys Gallion from Shelburne. They married April 1950. Supporting his family, he drove a truck for his brother-in-law, Roger Varner, building the road from trunk 10 in New Germany to Springfield. In the late 1950's and 60's, Dad teamed up with friends and fellow carpenters, Joe Hall, Morris Zwicker, Gilbert Veinot and Reg Trethewey, travelling to Halifax working for construction companies such as Steven's and Fiske, Blunden and Maritime Foundation. During his earlier life, before arthritis, he played the guitar and mouth organ, entertaining his family and friends. In the 60's he joined other musicians in the area doing variety concerts, under the name "The Hosier Hot Shots". Tired of the commute to the city, he began working in Bridgewater for Nauss Brothers. He helped to build five of his six children's houses. Dad retired at 65 but was kept busy doing small jobs within the community, volunteering his time to do repairs at the legion and the Epworth United Church where he was a member, and sang with the choir for many years. Dad finally hung up his tool belt at 72 and chauffeured Mom around assisting in her volunteer work with the Canadian Cancer Society, Heart and Stroke Foundation and church related activities. Dad was an affiliate member of the Royal Canadian Legion, branch 102, New Germany, founding member of the local Bluegrass Association in New Canada and life member of the local fire department. Dad and Mom (known in the community as 86 & 99) enjoyed camping, taking trips to US visiting relatives and going to bluegrass festivals. They loved to dance and would travel near and far to dance to their favorite bands, "The Mason's" and "Special Blend". It was such a joy to watch them dancing the 2-step the last time at their youngest son's wedding in 2011.
Max leaves behind his brothers, Bradford, Simpsons Corner; Edgar, New Germany, they had a special bond and could always talk up a storm when together. Also left to miss Max, are daughter, Valerie (Richard) Levy, their children, Vance, Alison and Elliot; son, Marcus (Brenda), their children, Matthew (Nicole Mosher), Marcie (Christian Pugh) and Laura; son, Robert (Angela), their children, Jennifer (Stacy), great grandson, Benson, Deven (Katie); son, Paul (Sue Ann), their children, Zachary (Kailey), Keeley, Brody (Kaili), Jory; son, Andrew, his daughter, Kayla (Paul) and son, Karl (Carol); sister-in-law, Elizabeth (Everette) Cromwell. Grandchildren will miss grandpa's grand entertaining stories. Max was predeceased by the love of his life, Gladys (d. 2014), who he lovingly cared for at home, for the last four years of her life; grandson, Brandon (d. 2007); sister, Eveline Varner, sisters-in-law, Leola and Pearl.
To comply with Max and Gladys's wishes there will be a private family service only. Should you desire to make a memorial donation, which would be appreciated, please consider the Brandon Russell Legacy Foundation, Canadian Diabetes Association, Rosedale Home for Special Care, Epworth United Church or charity of your choice. The family wishes to extend sincere appreciation for the exceptional care given to Dad at Rosedale Home. Your dedication to your jobs is inspiring to others. Thank you to Dr. Pugh for his direction in medical care for Dad. Thanks also to granddaughter, Marcie. Bless all of you. Arrangements entrusted to Sweeny's Funeral Home, 4895 route 10, New Germany where on-line condolences may be made by visiting www.sweenysfuneralhome.com.