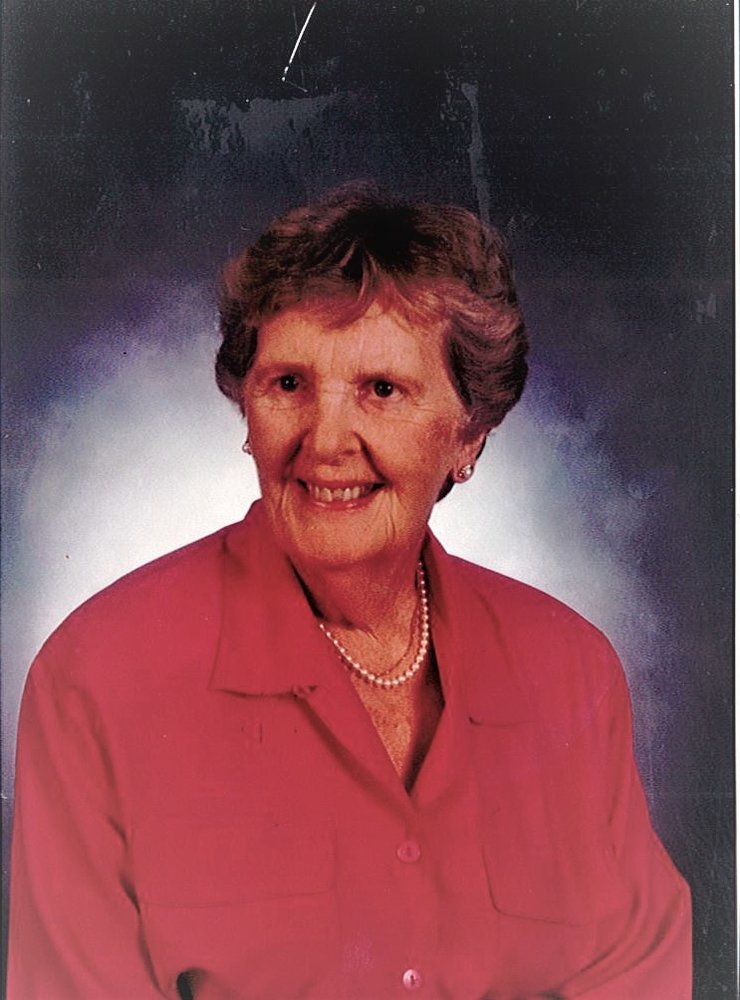 Obituary of Ethel Dillon
DILLON, Ethel Catherine - Passed away on Sunday, September 10, 2017 in her residence at Shoreham Village Home for Special Care, Chester. Born August 15, 1921 in Donkin, Cape Breton, Ethel was the daughter of the late Angus and Martha (MacDonald) Ferguson.
Educated at Glace Bay High School she attended and graduated from Mount Allison Commercial College and the Maritime School of Social Work, Dalhousie University. Ethel married Rev. Stuart MacDonald in 1948 and during their married life they served in four United Church communities of St. Peters, Sydney Mines, Lunenburg and Saint John. During this time, she worked with the Children's Aid Society and was involved with church and community work and made many life long friends. When she was widowed in 1967 she and her children moved from Saint John to Halifax. In 1976, Ethel reconnected with an old friend from Cape Breton days, Eldridge Dillon, who had worked as an engineer in Winnipeg during his professional career. Upon their marriage in 1977 Eldridge retired and they moved to Bridgewater where they led a very happy and busy life for 35 years before Eldridge's death in 2011. During her years in Bridgewater, Ethel was an active member of the Bridgewater United Church, was recognized for her many years of volunteer work with the Arthritis Society and continued her volunteer work with the Meals on Wheels program after organizing the first program years before in Saint John. Ethel had a great capacity for friendship, a true love for people and maintained many close friendships over the years. Given her Cape Breton roots and her outgoing personality it was unusual that she didn't know someone or have some connection in any crowd. She treasured her family and loved her role as a homemaker and taking care of her family. She had many wonderful and caring friends and had a special place in her heart for Cape Breton and the Nova Scotia south shore. It was well known that she loved to shop, for herself and others. Drives to Crescent Beach and Green Bay to sit by the ocean, summer evenings spent sitting on the back deck, trips she and Eldie took were all favourite pastimes.
Ethel is survived by her children Susan (Vaughn Perrin), Dartmouth; Jamie (Moira), Lunenburg and her granddaughters, of whom she was especially proud, Leah, Dartmouth and Ceilagh, Toronto. She will be greatly missed by her brother Donald Ferguson in Ottawa, whose weekly letters were very much anticipated and appreciated; and her good friend and sister in law Shirley MacIntosh in Halifax, nieces and nephews, and her many good friends. She was predeceased by her sister, Jean MacKinnon.
A memorial service will be held 2 p.m., Sunday, October 15 at Bridgewater United Church, Rev. Ron Frampton officiating. Interment will take place in Greenwood Cemetery, Glace Bay. Family flowers only. Donations may be made to Bridgewater United Church, Heart and Stroke Foundation of Nova Scotia, Arthritis Society or charity of choice. Thank you to the staff at Shoreham Village for your care. Arrangements are entrusted to Sweeny's Funeral Home, Bridgewater, where on-line condolences may be made by visiting www.sweenysfuneralhome.com.