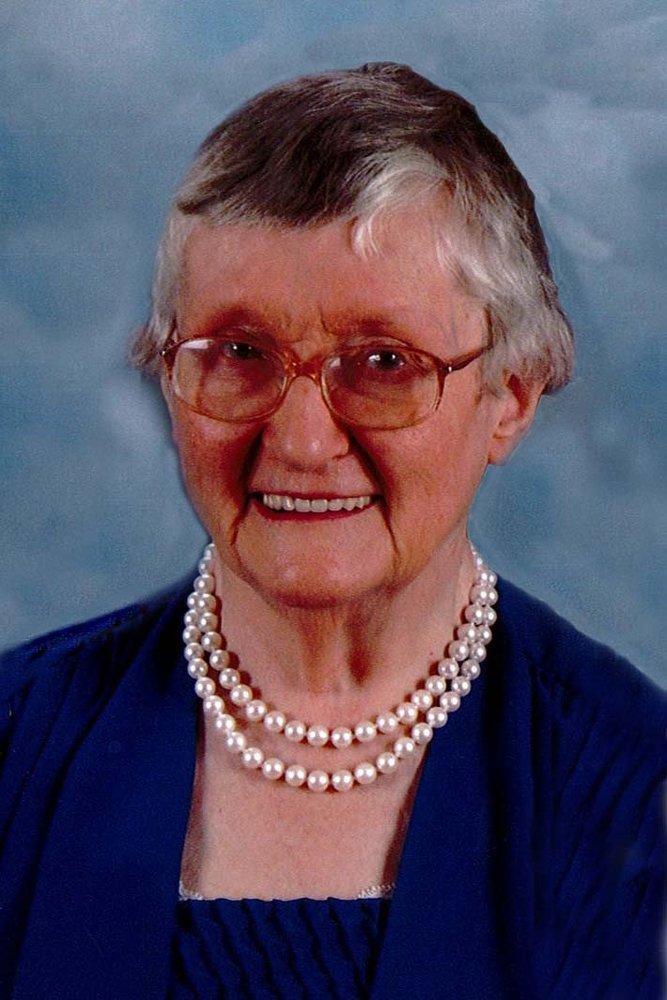 Obituary of Noreen Penney
PENNEY, Noreen Marguerite - Her loving husband Gilbert was waiting for her with the car warmed up when she went to meet him on Saturday, November 18, 2017 surrounded by her loving family at Rosedale Home in New Germany where she had resided for the past three and a half years. A miracle baby, Noreen was born via caesarean section weighing three pounds on April 21, 1928 when, being a girl, she was not yet legally a person. The adored daughter of Edwin and Gladys (Durland) Fancy, she grew up in a multi-generational/dual household on the family farm in Watford with her grandparents Daniel and Eunice Durland, her Aunt Nina and Uncle Howard Silver and six male cousins: Lawrence, Bert, Leroy, Martin, Robert, and Lorraine. She attended the one room school house in Watford, graduated, and then attended Bridgewater Commercial School. Upon graduation, she worked for MacKenzie Bus Lines as a secretary. On VE Day at the street party in Bridgewater, she began dating a handsome West Nova Scotia Regiment soldier, her soul mate Gilbert Penney, whom she married on November 8, 1947. She moved to Upper Northfield to the Penney farm where she had to learn to cook, eventually becoming an excellent one.
Together they raised four children: Rosaleen (George) Smith, Belmont; Bradford (Louise) Penney, Stanley Section; Hester (Howard) Gibson, Upper Northfield; and Lauralee Penney, Kelly's Cove.
Always up for an adventure, she and her husband spent many hours motoring to visit relatives in distant places. Family connections were important to her. Her 50th Anniversary trip to Alberta and British Columbia was the trip of a lifetime for her. Beginning at Barss Corner United Baptist Church, then Upper Northfield United Church and finally Mount Calvary Lutheran Church in Upper Northfield, her faith played a huge role in her life with music being her personal gift. She was the secretary of the Upper Northfield United Church Ladies Aid until its dissolution. She was a lifelong member of the Women's Institute that was and continues to be a voice for rural women. Despite suffering ongoing pain from rheumatoid arthritis, she valiantly continued her day to day activities without complaint. Always described as a lady, she was kind, considerate and positive in her outlook. Following the death of her husband (also at the age of 89) she continued to reside at her home in Upper Northfield until extreme health issues resulted in her moving to Rosedale Home in New Germany which became her home away from home. The family appreciates the loving care and excellent food she received at Rosedale and Noreen felt she was blessed to be allowed to live there. She will be lovingly remembered for countless things but particularly for her pink icing cookies, homemade coffee ice cream, thimble cookies, Saturday night baked beans, games of cribbage and dominoes, and being the Gracie to her husband's George Burns. They were a team! Her greatest joy was her wonderful family and circle of friends coming to visit and the utter pleasure of being able to read again, thanks to the CNIB audio books.
She is survived by her four children, nine grandchildren: Dianna (Victor) McKenzie, Hammonds Plains; Jonathan (Sabrina) McGee, Crowes Mills; Morgan (Laura) Gibson, Upper Northfield; Amy (Mario) Gibson Saab, Timberlea; Elyse (Andrew) Gibson Clegg, Elkridge, MD; Tiffany (Devan Robicheau) d'Eon, Watford; Seth Williams-Penney, Halifax; Nathaniel Williams-Penney, Kelly's Cove; Tyrus Williams-Penney, Kelly's Cove; and thirteen great-grandchildren: Andrew (Katie); Brayden, Danica, Spencer, Anabelle; Evan, Ella, Brady; Addison, Max; John, Isaac; Zeke and many much loved nieces and nephews.
Visitation will take place at Sweeny's Funeral Home in Bridgewater on Tuesday, November 21 from 7 to 9 p.m. The funeral service will be held at 11 a.m., Wednesday, November 22 in Mount Calvary Lutheran Church, Upper Northfield with internment to take place at the old cemetery in Upper Northfield. Rev. Adam Snook officiating. A reception will follow for family and friends at the Upper Northfield Community Hall. Family flowers only please. Memorial donations may be made to the CNIB, Rosedale Home for Special Care, Mount Calvary Lutheran Church, Upper Northfield Cemetery or the charity of your choice. Online condolences may be made by visiting www.sweenysfuneralhome.com.
Proudly Serving the Communities of Bridgewater, New Germany and surrounding areas.