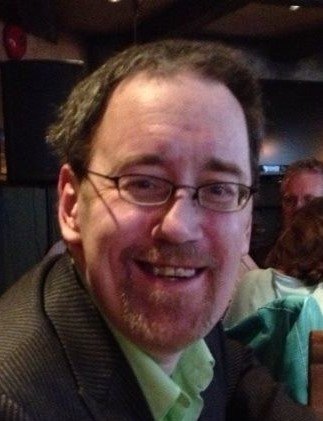 Obituary of Dale Madill
MADILL, Dale William - It is with heavy hearts that the family of Dale William Madill, 56, of Lewis Lake, shares the news that their beloved father, husband, son and brother died on Sunday, November 19, 2017 at home. Born in Sherbrooke, Quebec.
Dale grew up in Bridgewater, and attended Bridgewater Jr.-Sr. High School, graduating in 1979. He was premier of the student council in his senior year. He attended Acadia University for a couple of years and studied philosophy. He had a long, varied career in journalism, politics and the provincial civil service. He was an award-winning reporter with The Chronicle Herald for 15 years. His goal every day was to write a front-page story. He received an Atlantic Journalism Award, and a Canadian Bar Association award for legal reporting. Upon leaving The Herald, Dale went to work for Dr. John Hamm in the premier's office and then he worked as a policy analyst for the Nova Scotia government. He retired from Service Nova Scotia in May 2016. He loved his work and he maintained friendships with colleagues from both The Herald and government. His family and friends will miss his kindness, sharp mind, quick wit and his favourite expressions: "you better get your ducks in a row," "you gotta lance that boil," "don't let the game control you - you gotta control the game," and "never mention a no-hitter." He loved his small community - he was a big supporter of his son's former scout troop, and he was a member of the founding board of Estabrooks Community Hall in Lewis Lake. Watching baseball was his favourite pastime - there wasn't a stat or player he didn't know. He was a true aficionado and enjoyed watching all teams play, except for the Yankees. Most of all, he treasured the time he spent with his son, playing Crash Bandicoot and making LEGO creations, and later, their conversations (debates) about politics and history.
Dale is survived by his parents, Nita Madill of Bridgewater and Gordon Madill of Shoreham Village, Chester; wife, Christine Soucie; son, Matthew Madill; brothers, David (Lorraine), Sydney; and Dean (Trudy), Black Point; sisters, Crystal (Paul Beck), Bridgewater; and Cathy Cichowski (Steve), San Antonio, Tex.; nephews, Johnston Farrow, Houston; Alex and Ben Madill, Halifax; nieces, Jessica Nelson, Houston; Stephanie Burke, Sydney; Hailey Madill, Halifax; Nicky Madill, Fredericton; Alyssa and Natasha Simpson, Dartmouth; aunt, Gladys McAfee; mother and father-in-law, Angela and Raymond Soucie, Dartmouth; and sister-in-law, Denise (Stephen) Simpson, Dartmouth. He was predeceased by grandparents, William and Margaret Madill, Vera and Wendell Thorne; and several aunts and uncles, Charles Madill, Alice Herrington, Margaret Madill, Doris Green, Cyril Thorne, Doug Thorne, Ron Thorne, Rheta McKay, and Llew Wright. Thank you to Dr. Everett Weagle and Dr. Simon Jackson, and RN Cathy Wilson for their compassionate care over the last several years. A Celebration of Dale's Life will take place Friday, November 24th, 1-3 p.m., in Sweeny's Funeral Home, York Street, Bridgewater. In lieu of flowers, donations can be made to Scouts Canada's No One Left Behind fund.