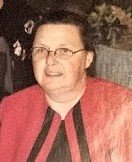 Obituary of Susan Venetta Baker
BAKER, Susan Venetta – Age 69, Dartmouth, passed away on Wednesday, March 6, 2019 in the Q.E. II Health Center, Infirmary Site, Halifax. Born in Bridgewater, she was a daughter of Evelyn (Whynott) Baker, Voglers Cove and the late Garth Reinhardt.
Surviving are her son, Robert Baker, Dartmouth; daughter, Charity Baker, Dartmouth; grandchildren, Brianna Baker, R. Kenneth Baker, Kaylee Baker; sister, Julia (Kenneth) Wamboldt; step-sisters Sandra Selig and Dianne Swinemar; step-brothers Douglas Baker and Alan Baker.
Besides her father, she was predeceased by her husband, Kenneth Baker; brother Clifford Andrew Reinhardt and step-sister Sharon Ewald. Susan will be fondly remembered as an avid crafter and lover of animals. She dedicated most of her life to helping find new homes for animals in need.
Visitation will be held from 7-9 p.m., Tuesday, March 12 in Sweeny's Funeral Home, 35 York Street, Bridgewater. Memorial Service will be 1:30 p.m., Wednesday in St. Alban's Anglican Church, Voglers Cove with Rev. Alvin Westgate officiating. Immediate family flowers only please. Donations may be made to the charity of choice. On-line condolences may be made by visiting www.sweenysfuneralhome.com.