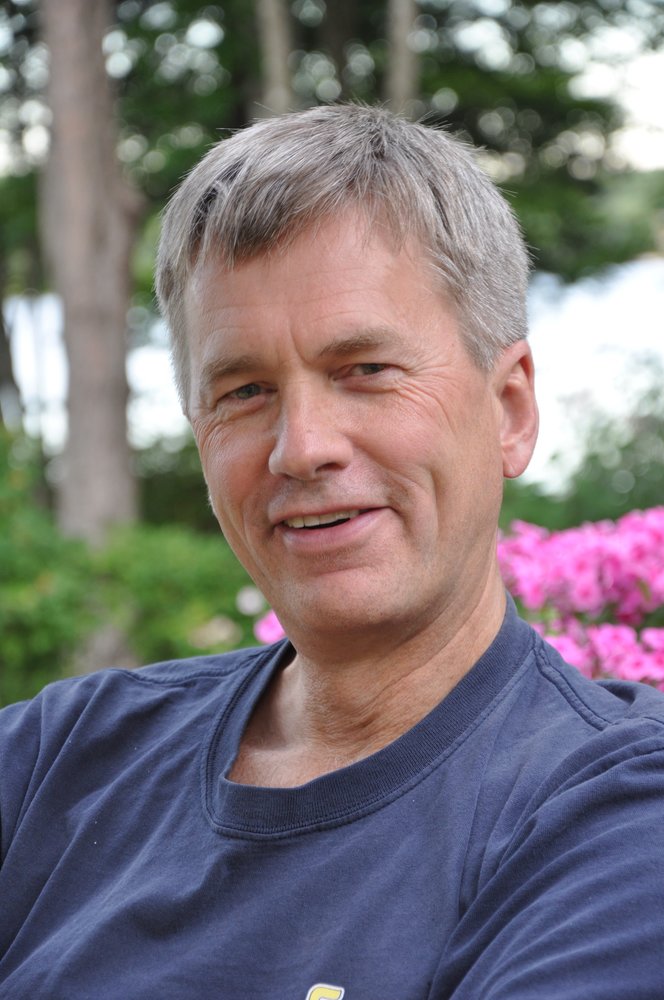 Obituary of Dr. Richard "Rick" William Kydd
KYDD, Dr. Richard (Rick) William - It is with heavy hearts that the family announces the peaceful passing of Dr. Richard (Rick) William Kydd on January 22, 2020, at his home in Hebbville. Rick was surrounded by family on the beautiful, sunny day, and had a view of his gorgeous property that he cultivated and loved so much. Rick died at age 64, after losing his courageous fight against leukemia and the intense treatment it required; he left us far too soon.
Rick's story began in Stanley, NB on May 6, 1955, the youngest child to William (Bill) Fairweather and Margaret (Peggy) Sybella (Quelch) Kydd.
In 1957, the family moved to Bridgewater, where Rick began to forge strong friendships, many of which lasted his lifetime. Rick was actively involved within the community, but was most at ease playing sports, games or pranks. As he was the youngest brother to two older siblings, he naturally became the stand-in doll or easy excuse when trouble loomed. Regardless, Rick always spoke highly of family, especially his father, and the treasured memories of their time together.
Through all his schooling, Rick was a smart and successful student; although there were occasionally times he clearly wasn't meeting his potential. A good example of this is when he and close friends decided to confirm if a Volkswagen Beetle would float as advertised; as sensible people already knew, it wouldn't. After graduating high school, despite so obviously failing to understand the simple equations that indicate a car will quickly sink, Rick felt mathematics would be his easiest route to medical school. On this assumption, he was right; after graduating with his Bachelor of Science in Mathematics, Rick continued through Medical School at Dalhousie University, graduating in 1980.
Following graduation, the new Dr. Kydd moved back to Bridgewater to establish his medical practice, where he continued to provide exceptional care until September 2018. Dr. Kydd was a well-respected, compassionate and caring family physician who was dedicated to his patients for over 37 years. During his career he provided care to thousands of patients, often attending to several generations of the same family. He was held in high regard by his patients and colleagues for his sympathetic and professional care.
While honing his math skills at Dalhousie University, Rick fell in love with Pamela Shaw, a charismatic laboratory technology student from Woodstock, NB. Pam's resolve and dedication to Rick was thoroughly tested on the many early trips to Bridgewater, where family and friends subjected her to endless tests (mostly overly competitive card games) to reveal her true colours and ensure she wouldn't crack under pressure; she passed each and every test. Some time later, Rick proposed to Pam at Fort Point, on the Lahave River; they were married in July 1978, in Woodstock, NB. They were the loves of each other's lives and best friends. Pam's resolve, love and dedication was never more apparent than during Rick's leukemia treatment; there was no stronger person than Pam, who unwaveringly focused only on Rick's health.
In 1982 and 1984, Rick and Pam had two sons, Jeffrey and Peter. Rick was tremendously proud of his boys, when they weren't testing his patience, and always supportive of their various interests and activities. He watched proudly as they grew into men, went to university, developed careers and started young families of their own. While they would have loved if the boys were closer to home, Rick and Pam encouraged them to follow their own paths, which took them to Vancouver and Baffin Islands.
Second to family, Rick's most prevalent passion was his home; when not at work, Rick wanted to be at home nurturing the family property, by far his favorite place. He had a vision for what he wanted it to be and made it happen; from scouring the lake shore or a farmer's field in search of the perfect rock for a particular spot, to crafting a beautiful sculpture as an accent piece for the pond he created. The property will always be beautiful, but without Rick it will certainly have fewer trenches to direct where the rain water flows, puddles rejoice! Rick's sanctuary at home was his workshop, where he could get lost for hours while woodworking, fixing or building. Regardless of the project, or honey-do-list task, he always enjoyed his time in the workshop.
Irrespective of the finicky maritime weather, Rick preferred to be outside enjoying nature. Some of his favorites were savoring a morning cup of coffee by the lake, going for a walk on the beach and spending time on the ocean. Family camping trips, from the time his boys were young until recently with his nephew, were always memorable, clearly putting Rick in his element and bringing him comfort.
Rick always enjoyed travelling; whether it was a new international adventure, a staycation within the Maritimes, a trip to one of Canada's other two coasts to see children and grandchildren, or a golf trip with the guys, there was always a plan for the next trip.
Despite all the travel, Rick was rarely referred to as a cultured individual; he had a life-long love affair with sandwiches for lunch and peanut butter for breakfast. He claimed to like any kind of food, but often said pasta, garlic or anything that doesn't resemble a traditional Canadian dish would make his toenails curl. He was also fond of elephant jokes, and had a seemingly endless repertoire; his infamous hook had children of all ages running for the door.
Rick was an avid and ruthless game player who rarely lost any board or card game he ever played. He honed his boys into cribbage players who could challenge his skills; Pam still refuses to learn how to play. For decades, some friends would decline invitations to play various board games against Rick, after experiencing humiliating defeats long ago; others were gluttons for punishment or forever optimistic that their luck against Rick was about to change. His love for games will undoubtedly be passed on for generations.
Rick had a quiet and calm personality with unflappable composure, but also had a strong presence and unquestionable integrity; he was a generous, loyal friend with a charming dry wit. Rick's family and closest friends understood not to misinterpret that quiet personality as unprepared or submissive, as he often used it as a secret weapon to cloak his careful preparations for a prank or to get light hearted revenge when least expected. Rick would never hold a grudge and would always forgive quickly.
Rick could always be relied on for anything at any time. He put everyone before himself and would never think twice about helping someone in need. He always did what was right and saw the good in everyone. He will always be loved and never forgotten.
Rick was husband of 42 years to the love of his life Pamela (Shaw); devoted father of sons, Jeffrey (Michelle), Comox, BC and Peter (Lilianne), Iqaluit, NU, and loving grandfather to adored grandchildren, Lorna, Westley, and Chloé. Rick will also be sadly missed by his mother Peggy, Bridgewater, NS, parents-in-law Waldo and Doreen Shaw, Woodstock, NB, brother Allan (Sandy), Riverview, NB, sister Susan (Martin), Moncton, NB, brother-in-law Marty (Andrea), Woodstock, NB, many cherished nieces, nephews, cousins and all those who knew him.
Rick was predeceased by his father, Bill.
The family would like to express their gratitude to Dr. Mahmoud Elsawy and the entire health care team on the 8th Floor of the Victoria General Hospital, in Halifax, for the exceptional care and support they provided. The compassionate professionalism and empathetic explanation made an excruciating experience tolerable.
In lieu of flowers, donations in Rick's memory can be made to the Leukemia & Lymphoma Society of Canada (www.llscanada.org). The family also encourages everyone to donate blood and other blood products, to help others in their fight against blood-based cancers (www.blood.ca).
On Saturday, February 1, 2020 from 1-3 p.m., a celebration of Rick's life will take place at the Bridgewater Baptist Church, 564 Glen Allen Drive, Bridgewater.
Arrangements are entrusted to Sweeny's Funeral Home, 35 York Street, Bridgewater, where online condolences and messages may be made by visiting: www.sweenysfuneralhome.com.