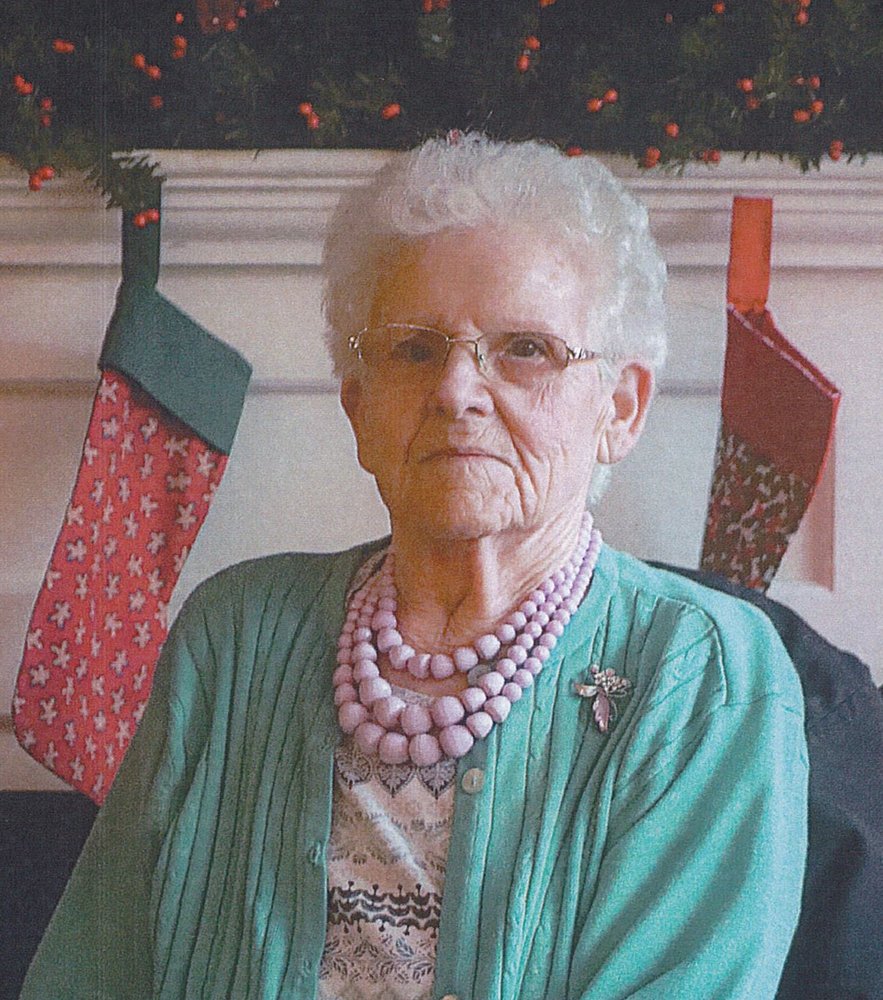 Obituary of Audrey Elaine Sarty
SARTY (Conrad), Audrey Elaine - Age 89 of West Northfield, passed away August 22, 2020 in Rosedale Home for Special Care, New Germany. After successfully beating cancer earlier in life, Audrey eventually succumbed to a stroke and Alzheimer's disease. Born in Lower Branch on January 18, 1931, she was a daughter of the late Lawrence and Verna (Knox) Conrad. Audrey is survived by her husband of 67 years, Chester; son, Terry Conrad (Paulette); daughters, Julia Naas (Beverly); Kim Langille (Andrew); grandchildren, Blair Conrad (Angie); Troy Conrad; Tanya Hagen (Stephen); Jillian Cogger (Mark); Kristin Naas; Courtney and Devin Langille; great-grandchildren, Chandler Conrad; Olivia and Alexander Hagen; Jacob, Hannah and Grayson Cogger; sisters, Gloria Mailman; Joyce Lowe; brother, Carman Conrad; numerous nieces and nephews.

Besides her parents, Audrey was predeceased by brothers, Roderick, Granville, Rayburn and Glendon Conrad and sister, Alice in infancy.

She enjoyed sewing, knitting, crochet, rug-hooking, quilting, and gardening. Mom was always a hard worker. Growing up in a large family that included 5 brothers, she often boasted about working with her dad and keeping up with the boys in whatever activity that needed to be done. As the oldest girl in the family she also helped with the younger siblings. After she and Chester married, she was involved in all aspects of farming life. Whether it was milking cows, harrowing the fields, haying or planting, she was front and center. She and Chester lived with Chester's parents until they bought an old farm property just up the road from Chester's home place. They worked together tirelessly to fix up their farm property and raised their family of three there. Eventually they moved back to Chester's home place and again undertook an extensive renovation. While she was no stranger to hard work, she also liked to have fun. House parties were common with music and dancing and a libation or two. Charlie Pride, Merle Haggard and Conway Twitty were favorites and both she and Chester enjoyed listening to bluegrass music. She also loved to play cards and many games of rummy and canasta were played at the kitchen table. We continued to play cards with her at the nursing home as well. She was a Halloween fan and talked often of dressing up and visiting people on Halloween and was proud that no one could figure out who it was. If you lived on the Eisnor Road you may have seen a scruffy man in a bear skin or a lady in a gown strolling down the road at some point. Those get ups and antics were conspired by Mom and Dad. She and Chester worked together on most everything, including the building of a camp on their woodland. While Chester was logging, she would make dinner in the camp. A few parties may have happened there over the years as well. She loved it there and one of her fondest memories was making Thanksgiving dinner for the family at the camp. Mom was always busy doing something. She was an experienced seamstress in her younger years and quilted, hooked rugs, knitted, crocheted, cross stitched and more. She was always up to try something new. She mastered many things, but biking was not one of them. She would often tell the story of riding a bike in a big hay field and still managing to run into the one large pole in the field. She never rode a bike after that. She was a great cook. Growing up, family dinners were a common occurrence on Sundays. Christmas dinners were hosted by Mom for many years until the family became too large for her to handle. Her homemade bread and rolls were second to none and growing up there were always homemade cookies, cakes, pies, and sweets for our enjoyment. Mom would always be ready to make our favourites, whether it was a mincemeat pie, barley soup, raisin pie or brown flour soup. All you had to do was ask. She made great use of the garden every year and we always had a freezer full of blanched peas and beans, not to mention the large variety of pickles we enjoyed every year. Her red tomato chow was so delicious.
Mom was a great Nanny and we could always count on her if we needed help or advice with anything. From helping us with our first experience as new mothers to babysitting so we could have a night out or looking after a sick grandchild while the parents were at work, she was always there. In her later years when her hands were not as nimble, she enjoyed word searches and puzzles, as well as reading. She always minded the heat and will be fondly remembered for wearing her "moon" dresses which helped to keep her cool. She was known to be stubborn and feisty. She had a quick wit and knew a curse word or two! These were traits that she kept right to the end and helped her win her battle against cancer earlier in her life. Mom was loved as a wife, mother, grandmother, great grandmother, and friend. She will be remembered for her strength and fiery attitude. She will be greatly missed.
A graveside service will be held 11 a.m., on Thursday, August 27, at Maple Grove Cemetery, West Northfield. Rev. Dale Gray officiating. As for public health regulations, maximum 250 people are permitted to attend; and for your safety, please consider wearing a mask and respect the physical distancing requirements; as well for your comfort, please bring a chair. Donations in Audrey's memory may be made to the Canadian Cancer Society. The family wishes to extend their sincere gratitude to the staff at Rosedale Home for Special Care.
Proudly Serving the Communities of Bridgewater, New Germany and surrounding areas.