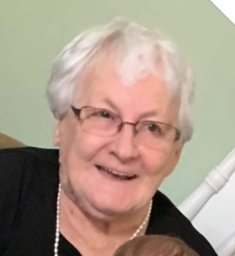 Obituary of Janet Mae Pottie
Janet Mae Pottie, nee Wharton, born in her grandparents' kitchen in Beach Meadows on May 27, 1939, she grew up in Liverpool, and died in Bridgewater November 7, 2020. She was the rock of her family who remained unruffled in emergencies, had an unflinching intellect, empathy with human foibles, and the forbearance to endure with grace the pain and disability that marked her later years.
Janet grew up in a bright red house in Liverpool, where her life revolved around school, church, piano lessons and friends. As a teen, she was an accomplished pianist and a strong badminton player and she loved to dance. She graduated from Liverpool Regional High School in 1957.
Janet couldn't see the point of fighting over small things but she had a will of iron when something was important to her. Over the objections of her parents, she decided to become a Registered Nurse and in January 1958, she started Nurses Training at the Victoria General. Janet was an RN at hospitals in Truro, Halifax, Liverpool, and New Glasgow. She was a nurse at the Nova Scotia Hospital, Dartmouth and the psychiatric hospital in Cole Harbour. Ultimately, she became the Night Supervisor at the Dawson Memorial Hospital in Bridgewater. After retirement, she taught the Certified Nursing Assistants Course at the Nova Scotia Community College for a year and worked briefly and happily at Lahave Manor, Dayspring.
She married the man she loved, David Pottie, in 1960. Their marriage was a close, trusting partnership and, as she put it, her life revolved around him. They had four children, including a baby who died at birth. The 1960s and 1970s was a whirlwind of parenting, housework (her homes were always immaculate; she even ironed socks), and nursing. Finding reliable child care was not easy so she went on night duty to ensure she was always at home during the day. In her busy life, she still made time for friends (many cups of coffee at the kitchen table), for books and for fun. One summer, she taught not only her three kids to swim, but all the children in the neighbourhood.
As her children became adults, Janet remained a source of love, advice, and warmth. Her first grandchild was born a month after her youngest child started university, considerably lessening her empty nest feelings. She was a natural story-teller and her children and grandchildren loved when she recounted the stories of her life. She valued each member of her family as unique and precious. That didn't mean she went easy on them in cards, though; she played to win and whooped with glee when she did.
Later in life, she became a sports fan. Her favourite was curling and she dissuaded her family from calling during the Brier. She loved winter and the beauty of snow. A favourite winter pasttime was shovelling snow.
Janet is survived by her husband of 60 years, David Pottie; her three children, Donica (Scot Slessor), Craig (Christina) and Paul (Trina Oickle Pottie); seven grandchildren, Bryn, Ann De Vouge (Sean), Emily (Sam Boudreau), Eric, Jessica, Sophie Slessor, and Ben ; and three lively great-grandchildren, whose photos and videos warmed her heart.
She was predeceased by her parents, Maxwell and Estella (nee Mouzar) Wharton ; her brother, Laurie ; her sister, Joan Godfrey and an infant son, Nicholas.
Her body has been donated, at her express wish, to the Dalhousie Medical School, her final contribution to medicine and public service.
There will be a celebration of life when circumstances permit. People wishing to be kept apprised should send an email to janetpottiememorial@gmail.com.
Donations may be made in her name to Souls Harbour Rescue Mission or the Heart and Stroke Foundation.
Proudly Serving the Communities of Bridgewater, New Germany and surrounding areas.