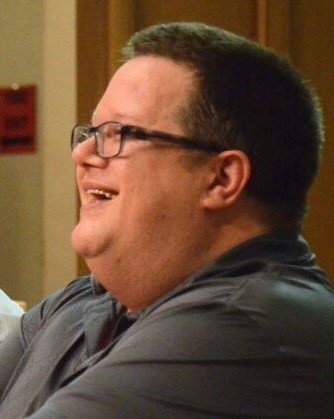 Obituary of John Edward Langille
LANGILLE, John Edward – of Huntsville, Ontario, died on Friday, March 5, 2021 in Soldier's Memorial Hospital, Orillia, Ontario after an incredible battle to live. Dubbed Johnny to his closest friends, he was born August 5, 1964 in Middleton, NS. He was the beloved son of Harold and Mary Ann (Wentzell) Langille of Bridgewater.
Growing up John enjoyed such competitive sports as tennis, badminton and swimming where he was a five-time provincial under 16 champion in the butterfly stroke. John graduated from Bridgetown High School in 1984 after which he attended Mount St. Vincent University graduating with his Bachelor of Arts in history. Starting piano lessons at the age of 6 and clarinet through his entire secondary school years, it became clearly obvious that music was John's first best love. Largely self-taught, John completed his formal piano training with the Toronto Conservatory of music during which time he found his true calling as an extraordinary church organist. Beginning at Nictaux Baptist Church he also worked at the West End Baptist Church in Halifax, Iona Presbyterian Church in Dartmouth finally settling in Trinity United Church in Huntsville Ontario where he was the music and choir director for 22 years. He had previously worked as a fine dining server at Deerhurst Resort in Huntsville for many years. While there, he was the Supervisor of Staff housing, overseeing and influencing young adults from all over the world.
A talented and gifted soul, his challenging cantatas, anthems and piano solos at Trinity United Church were John's way of sharing his love of music and God's message in a way that touched the lives of all the souls he encountered. A true Christian in every sense of the word, he gave continually of himself. If he knew of someone who was sick or lonely, he would call them and play music for them as well as pray with them. He also played at many nursing homes. John's story of leadership and charity was twice written and published in the local paper, The Doppler for his work, compassion and sense of humour. He was very much beloved and respected by everyone in his church family and the community of Huntsville. Before his health crisis, Johnny was anxiously looking forward to his return to his beloved Nova Scotia after his scheduled hip surgery in January, sadly this was not to happen.
Surviving are his parents, Harold and MaryAnn Langille; brother David (Darlene); sister, Cheryl (Darren) Pryde; aunt, Gayle Veinot, uncle Gary Langille, niece Emily Langille; nephews, Shane Langille, Brice Veinot, Anthony Durling, Tyler Gehue and many cousins; his dear friends Les and Christina of Huntsville.
He was predeceased by grandparents, Laurie and Ruth Wentzell and Harold and Helen Langille.
No visitation at the funeral home by request. Memorial service will be held 2 p.m, Saturday, March 13, in Bridgewater Baptist Church, Bridgewater. Rev. Richard Moore officiating. Family flowers only, donations may be made to Trinity United Church (33 Main Street East, Huntsville, ON, P1H 2B8). Interment will take place at a later date in Parkdale – Maplewood Community Cemetery, Parkdale.
The family would like to express their heartfelt thanks to the ICU staff of Huntsville Hospital and Orillia Hospital for the exceptional care he received. The attention and care provided by Doctors Chan and Bailey and the entire ICU staff, as well as the time they took to keep John's family informed and reassured was truly a blessing. The family would also like to thank Allister and Johanna Dunlop for all they have done in helping us through this difficult time. We could not have managed without you.
Johnny will be remembered passionately by anyone and everyone who met him.
Proudly Serving the Communities of Bridgewater, New Germany and surrounding areas.