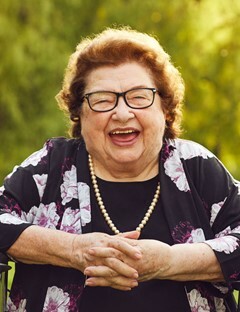 Obituary of Rebecca Daisy Sheppard
Rebecca Daisy Sheppard
1928-2021
It is with broken hearts and immense sadness that the family of Rebecca Daisy Sheppard, announce her passing after a short illness. She was born in Grand Falls Windsor, NL on June 9, 1928 but passed away at her home of 16 years in Bridgewater, N.S. in the early hours of September 20, 2021 surrounded by her loving family. Predeceased by her husband, Arthur Sheppard; parents James and Elizabeth (Dyke) Bragg; great grandsons, Jonah and Theo Holwell; sister, Mary Noseworthy; nieces, Patsy Fancy and Trish Noseworthy; nephew, Robert Bragg and brothers-in-law, John Foote, Kevin Noseworthy, Don Quigley; Ross Burge and Norm Lewis. Leaving to mourn are her 2 daughters, Rosalind Sheppard and Donna (Emerson) Coish; four beloved grandchildren, Rebecca Sheppard; Raye (Mark) Holwell; Erin (Mark) Coffin; Adam (Courtney) Coish and four treasured great grandchildren, Kaitlyn Holwell; Alex Coffin, Nate Coffin, and Emery Coffin; 5 siblings; Fred Bragg, May Quigley, Audrey Foote, Blanche Burge and Josie Lewis; special 'sons', Raymond Peckford and Gerry Dunphy; as well as many nieces and nephews plus a wide circle of family and close friends.
All of her children and grandchildren were at home during her illness to give her the love and care she needed so she could be comfortable and free of pain. As hard as it all was and despite all the crying, and broken hearts, we want to celebrate the beautiful and wonderful woman that she was, as her generosity was unmatched and her love for God, family, friends and her fellow human beings knew no bounds. She was loved, respected, cherished and admired by many people.
Her grandchildren lovingly called her Mommy Daisy, Mom Daisy or Grandma but their friends loved her too and affectionately called her Mama Daisy. Her obituary contains some actual comments made by people of all ages:
"She was an outstanding, strong, kind soul who loved us all, as we loved her"
"She was a larger-than-life personality and a force to be reckoned with".
"She was a strong, independent, passionate, loving, thoughtful, giving, helpful, and compassionate person who also loved fun, laughter and a good game of cards".
"She was indeed an extraordinary mom/grandma with a beautiful big heart of gold - besides her family she helped so many others-many we don't even know about. She was truly the best".
"She always gave with humility, never seeking recognition for her many acts of kindness"
"She was the sweetest and nicest person I ever met".
"She was a remarkable woman- everybody needs an Aunt Daisy".
"She was a special lady who will be remembered for the beautiful and incredible person that she was."
"She did a lot of good in her life and left a legacy of love and kindness that will comfort and warm your hearts".
"She will live on in all of you. Her kindness is a legacy. An angel is now in Heaven to look after two of her grandchildren. She will care for them as she has cared for so many children in the past. Her love will fill them with joy. Your loss is Theo and Jonah's gain.
"I heard about Mama Daisy. She has a special place in my heart and I too am feeling the pain of this sad news'"
"She was like a mom to me and I loved her dearly. Anyone who knew her were indeed blessed".
Her whole life was one of service to her family, church, friends and community. She worked and volunteered tirelessly, since a young age, to help organize the first schools in NL for people with disabilities. She believed in and worked hard through her volunteer and professional life to help build inclusive communities, where everyone is welcome. She worked for many years with the Grenfell Missions on the coast of Labrador and established one of the first group homes in the province of NL for which she received provincial recognition. In addition, she was also a girl guide leader, a cancer volunteer, and so much more. She was a 'giver' all of her life. She gave her time to listen and offer any help she could provide. She was most importantly a friend to so many people. She knew people all across NL and since 2005 endeared herself to many wonderful people in Bridgewater, NS and surrounding area. She was easy to love because she so readily showed love to others. She had a talent for making people feel good about themselves and would always encourage them to make good healthy choices in life. We feel blessed as a family to have been guided all these years by such a wonderful loving and caring person.
We would like to extend a special thank you to the VON and the Palliative Home Team who provided such an essential service to Daisy in the last days of her life. She received the quality of care that she needed and was so much appreciated.
To honour the legacy of Daisy Sheppard we ask that you perform an act of kindness and love and donate to any of the following: Newfoundland and Labrador Association for Community Living; Inclusion NS Society; Ronald McDonald House; International Alliance for Pediatric Stroke; Holy Trinity Anglican Church, Bridgewater, NS; St. Alban's Anglican Church, Grand Falls Windsor, NL; Canadian Cancer Society or any charity of your choice.
A private memorial service will be held Friday, October 1,2021 at Sweeny's Funeral Home, Bridgewater, NS. Another memorial service and interment will be held at a later date in Grand Falls Windsor, NL.
Arrangements under the direction of Sweeny's Funeral Home, Bridgewater, NS. where online condolences and messages may be made by visiting www.sweenysfuneralhome.com.
"What we once have enjoyed we can never lose. All that we love deeply becomes part of us". – Helen Keller
Proudly Serving the Communities of Bridgewater, New Germany and surrounding areas.