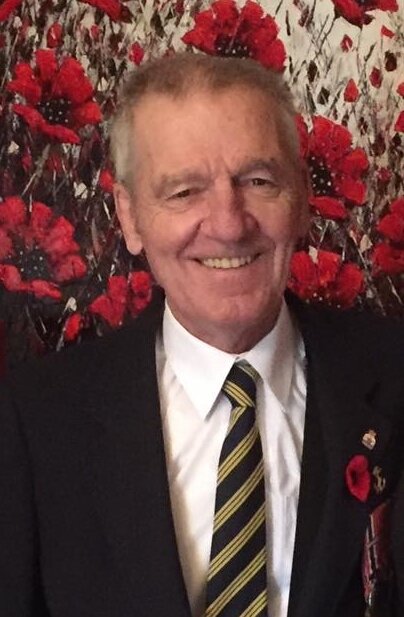 Obituary of Gerald Mitchelmore
Gerald (Gerry) Mitchelmore, December 1, 1943 – February 5, 2022
It's with heavy hearts our family announces that Gerald "Gerry" Mitchelmore died peacefully at home with family on February 5, 2022. Born in Edinburgh, Scotland to the late Doreen and Churchill Mitchelmore, Gerry was raised in St. Anthony, Newfoundland with his brothers and sister, before joining the Canadian Navy as a Signalman to see the world. Originally stationed at CFB Halifax, he met Joyce, the love of his life and Nova Scotia became his permanent home.
After serving in the Navy, Gerry worked in several industries before joining the Canadian Corps of Commissionaires where he worked until he retired in 2007. Gerry's love of the Navy continued throughout his life and he and Joyce were dedicated volunteers with the Navy League Cadets of Canada, taking youth on wonderful adventures and leading an annual camp for dozens of cadets each summer. An inability to swim never kept Gerry from the water. Whether he was driving the Navy League boat full of kids or towing Joyce on a tube behind his prized boat, Gerry was always a sailor. Gerry loved sports, hockey most of all, and was a fiercely passionate Boston Bruins fan. Good with his hands and quick to help, Gerry was the 'neighbourhood fix-it guy' wherever he lived, and he and Joyce made lasting friendships in their post-retirement community of Springfield. He was an avid volunteer, always ready to help with highlights being the World Junior and World Women's Hockey Tournaments, Tall Ships and the Springfield Volunteer Fire Department. Darts, a good story and a cold beer were some of Gerry's favourite things and he and Joyce enjoyed travelling to Newfoundland, Florida, and Cuba as well as spending time at their camp, relaxing and entertaining their grandchildren. Gerry took so much pride in his children, always ready with a story about one of his daughters and later his grandchildren. Nothing made Gerry happier than being surrounded by his family, even when the noise made it impossible to hear the game.
Gerry is survived by his loving wife of 55 years, Joyce (Garlick), daughters Kim (Greg) Blanchette; Kara (David Crain) Mitchelmore and Kelly (Jon Watson) Mitchelmore; grandchildren Andrew Blanchette, Maggie (Jesse) Lafeber; Ryan (Erin) Archer-Biddle and Allison Biddle. He will also be missed by brothers Richard (Nellie); Theo, Godfrey (Priscilla), sister Jillian, brother-in-law Bernie (Joanne) Scott, and so many loving nieces and nephews.
In addition to his parents, he is predeceased by his brother, Edwin; sister-in-law, Joanne Scott, and sister-in-law, Sylvia Mitchelmore.
Donations in Gerry's memory can be made to the Royal Canadian Legion, branch #102, New Germany.
The family would like to extend their heartfelt thanks to the Victorian Order of Nurses (Annapolis) and Middleton Palliative Care for their compassion and support.
Cremation has taken place. Due to COVID restrictions, a celebration of life will be held at a later date. Funeral arrangements are under the direction of Sweeney's Funeral Home, New Germany. Online condolences may be sent to www.sweenysfuneralhome.com.
Proudly Serving the Communities of Bridgewater, New Germany and surrounding areas.