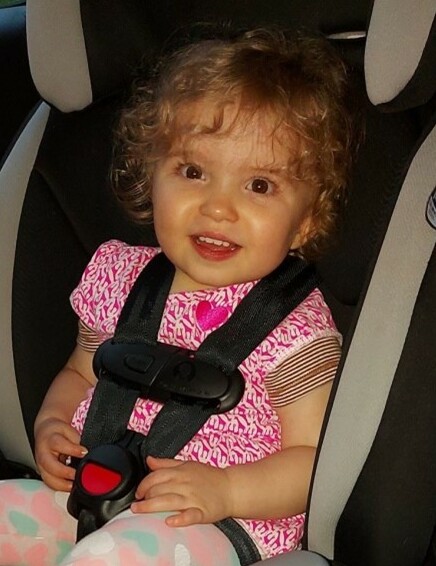 Obituary of Rosemary Elizabeth Nickerson
NICKERSON, Rosemary Elizabeth - Age 18 months, died unexpectedly July 4, 2022, in a tragic accident along with her brother Thomas (17), loving TaeTae (Tammy) (42), and beloved beagle Rosco (18).
While the family and friends are shocked by the death of such a bright, determined, little girl filled with so much potential, they are grateful to have had their lives touched by such a kind-hearted, beautiful little angel. Rosemary was born December 19, 2020. You loved going for runs in the stroller with Dada and Mummum and were showing your desire to go running, in the grass, and climbing every obstacle that was in your way – you loved to show how great you were at getting into your high chair and buckling yourself in. You were very tender, always eager to give a big hug, pat on the back and little kiss. You were inquisitive of everything and wanted to check it out, figuring out how to work the remotes or Daddy and Mommy's cell phones or the tablet. You were so joyous, always smiling and laughing, with everyone commenting on how happy you were. It was like a beacon of light shining in every place you entered. You had the most beautiful curls and your sister commented all the time how you looked like little Shirley Temple. You loved doggies, especially family beagle Rosco and enjoyed snuggling with him and were very gentle with him. You loved watching Dora, Octonauts, and The Wiggles. You were just discovering how to draw shapes and loved to color. You loved listening to music, were just beginning to talk more, and would sing all the time when music came on your favorite shows.
You were kind and empathetic. You were starting to read people's emotions and would hug people and pat them on the back. You loved your big brother Thomas and TaeTae (Tammy) so much and they were always very gentle and protective of you.
Rosemary is survived by loving parents, Kevin Nickerson and Rachel Winchcombe; Renee Nickerson, loving sister.
Predeceased by beloved pet, Charlotte.
A memorial service will take place 2 p.m. Monday, July 18, 2022, at Bridgewater Baptist Church, Glen Allen Drive, Bridgewater. This service will be live-streamed by visiting www.bridgewaterbaptist.com.
A second memorial service will be held 2 p.m. Wednesday, July 20, 2022, at the Yarmouth Wesleyan Church, 70 Haley Road, Yarmouth. Rev. Brooklynn Lane will be officiating the services.
Donations to Harbour House in Bridgewater or a local food bank.
Proudly Serving the Communities of Bridgewater, New Germany and surrounding areas.