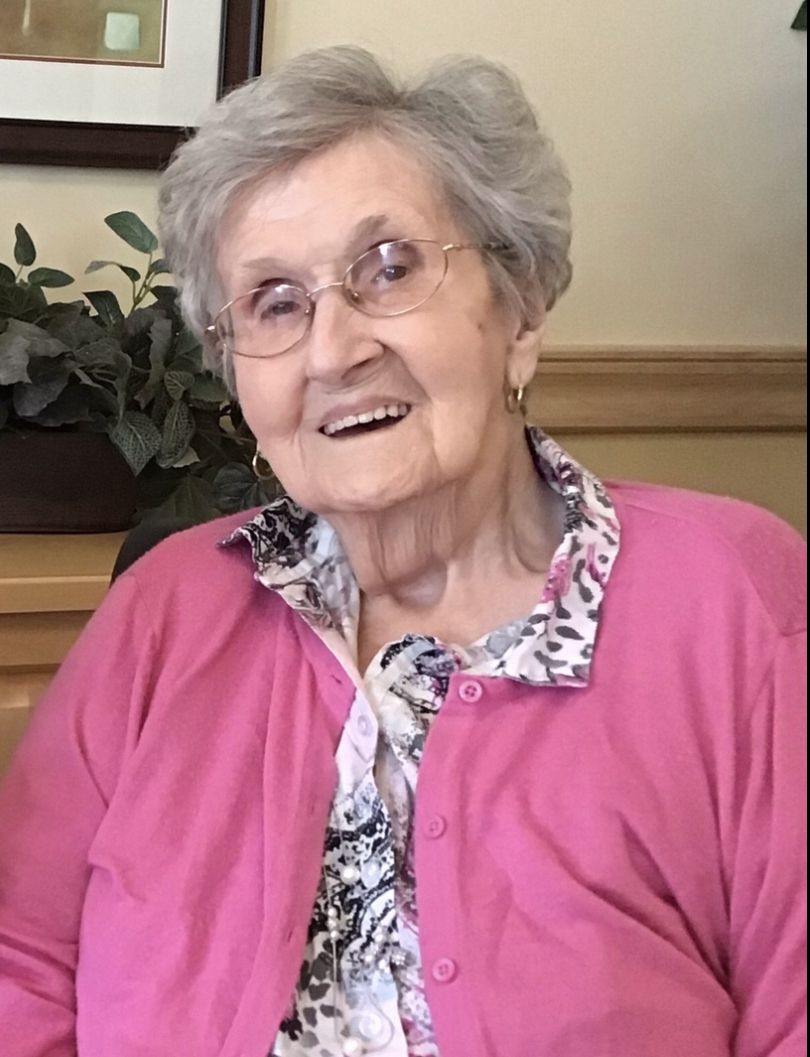 Obituary of Mary Carmela Wilson
WILSON, Mary Carmela (nee McGuire) - Age 100, of Pleasantville, Lunenburg Co., had a long life well-lived, shared by her loving family and many good friends. But sadly, her time has come to an end. Having celebrated her 100th birthday in May of this year, her family is heartbroken to announce that Carm passed away on Monday, September 12, 2022, in her residence at Ryan Hall, Bridgewater, peacefully in her sleep, as she had always hoped the end would come.
Carm was born on May 11, 1922, in St. John, New Brunswick, the fourth in a family of five children. Carm graduated from St. Vincent's High School in 1941, then went on to complete business studies at Saint John Vocational School, attaining skills she used throughout her life, as an entrepreneur and as a volunteer.
After beginning her career Carm fell in love with a handsome, redheaded member of the Canadian Airforce, Joe Wilson, and the two were married in 1944. A honeymoon trip to Dartmouth introduced the pair to Nova Scotia, a neighbouring province that would later play a huge role in their lives, a place where Carm and Joe would later build a home for themselves and their children.
With a growing family of two boys, Hugh and Eric, they made the decision to pursue their dreams, moving to Nova Scotia in 1959. Two place names popped out at them for their future home, Bridgetown and Bridgewater. They chose the latter because Joe was a keen boating enthusiast, the LaHave River ran through the town and being close to the ocean was important to both of them. Having settled the family into their new home, they were blessed by a third son, Joe, and their family was complete.
Ever the entrepreneurs, Carm and Joe acquired Richard's Motel in 1967 from Helen and Ralph Richards. They renamed it the Lighthouse Motel and proceeded to grow it into a thriving business, just as Michelin was arriving in the area. The motel would soon be booked solid and Carm was in her element, meeting people visiting from around the world coming to see Canada's Ocean Playground. Carm and Joe's vision lives on and the Lighthouse continues to thrive to this day. Seven years later it was time to pass the Lighthouse on to the next owners and Carm began a new life stage, volunteering with community organizations and supporting her husband's growing business as an Investment Advisor with Merrill Lynch Canada.
Carm would spend countless hours, over many fun-filled years, working with the South Shore Regional Hospital Auxiliary, taking on many roles at the Dawson Daisy, affectionately know as "The D". She and Joe were also active members of St. Joseph's Catholic Church and life-long volunteers with the Society of Saint Vincent de Paul.
As the years passed Carm and Joe enjoyed their annual trips to Florida, Bermuda or the Bahamas and welcomed many grandchildren and great grandchildren (and a few dogs!) to the family. Carm was most happy when hosting everyone at the home they built in Pleasantville, sharing home-cooked Thanksgiving, Christmas, Easter and birthday meals. She took pride in the gardens she planted and was a friend to all the birds and little animals that came to visit her forest. Carm was also famously known as the "first customer" at the wonderful LaHave Bakery, some 38 years ago. Through hard work, altruism and caring she had created a life far bigger than a young woman from depression-era Saint John ever could have imagined for herself. She was well loved and is terribly missed.
Carm was predeceased by her husband Joe; her son Hugh; her parents, Hugh and Theresa (Cusack); her siblings, Constance (Gilmore), Hugh "John", Edward "Bud", and her grandson, Ben. She is survived by her sister, Frances (Crease); Hugh's wife, Beverly Purdy; her son, Eric and his wife Mae; her son, Joe and his husband Jeff; grandchildren, Mary Jane (David), Sean (Chantelle), Tess (Pierre) and great grandchildren, Zachary, Kaleigh, Dominic and Lucien.
Arrangements have been entrusted to Sweeny's Funeral Home, 35 York Street, Bridgewater. There will be no visitation. A Celebration of Life will be held at a later date. Memorial donations may be made to the South Shore Regional Hospital Auxiliary. Online condolences and donations may be made by visiting www.sweenysfuneralhome.com
Proudly Serving the Communities of Bridgewater, New Germany and surrounding areas.