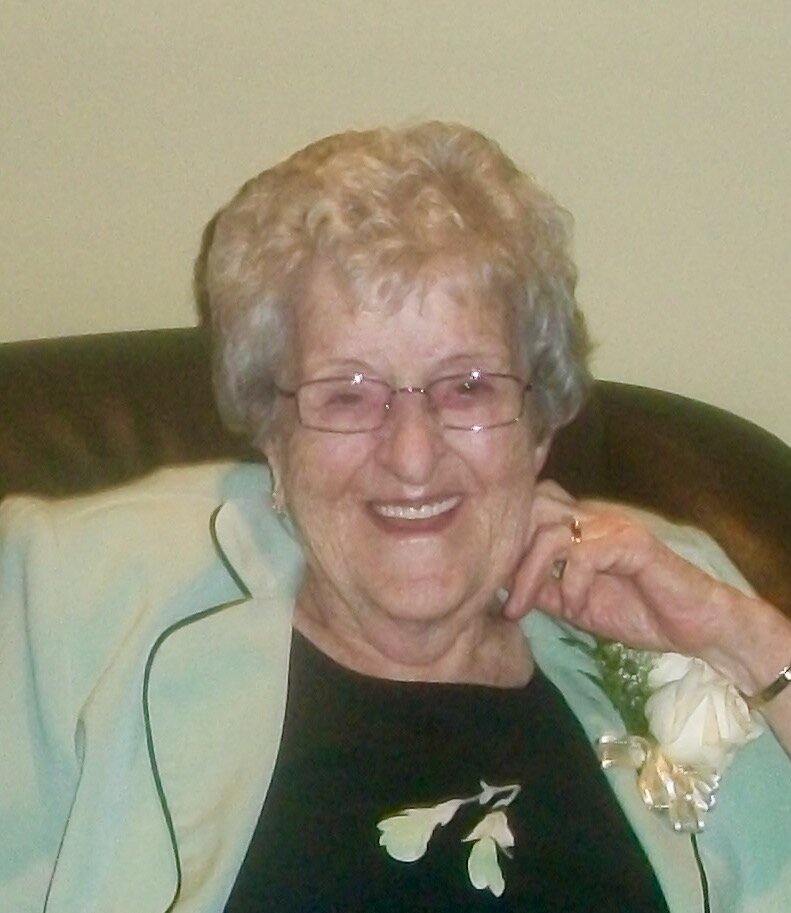 Obituary of Frances June Hirtle
HIRTLE, Frances June – Age 92, of Lunenburg, formerly of Bridgewater, Passed away December 21, 2022, in Harbourview Haven Nursing Home, Lunenburg. Born in Middlewood, she was the daughter of the late Lawrence and Shirley (Connoly) Llewellyn.
Mom always took pride in keeping her house neat and up to date. She enjoyed large gatherings at holidays, and large meals for family when they dropped by. She always had time to enjoy her grandchildren, and their children, when they came by. Harvest time every year meant pickles, jam's and preserves were made to see her family through the winter. Mom volunteered with the Brownies and Girl Guides for a time while Sharon and Wanda were young. She made many new friends among the other leaders and with the girls she lead. One of the Grandchildren, Sam, remembers her baking, especially at Christmas time. Fruit cake, rum balls, peanut butter balls and Sam's favourite, OK Squares, which were Laura's favourite too. He remembers meals outside in the front yard, with things made with vegetables from mom's garden, picked fresh that day. Cucumber salad that was started much earlier in the day, hodge podge, or chicken with new potatoes. It was all special. Sam also remembers her hand made quilts, and the paints mom used to make Artex liquid embroidery and made some wonderful pictures.
Frances is survived by daughter, Sharon Wentzell, Bridgewater; son, Richard Hirtle, Lapland; son-in-law, David Lowe, Bridgewater; step-sisters, Amy (Ronald) Jefferson, Bridgewater, Isobel Hailey, Hebbville, Karen (Keith) Woodworth, Bridgewater; grandchildren, Andrew (Kelly) Wentzell, Bridgewater, Kirk (Amanda) Wentzell, Bridgewater, Samuel (Laurie) Hirtle, Dartmouth, Laura Hirtle, Lapland, Kevin Lowe, Alberta, Jennifer (Calvin) Banfield, Oakhill; great-grandchildren, Kirsten (Nicholas) Lawrence, New Brunswick, Kaitlyn Wentzell, Bridgewater, Brandon Wentzell, Bridgewater, Katie Wentzell, Bridgewater, Caleb Banfield, Oakhill, Emma Banfield, Oakhill, Courtney Lowe, Newfoundland, Nicholas Lowe, Alberta; and great, great-grandchild, Braeden Pelley. She is predeceased by her husband, Carl Hirtle; daughter, Wanda Lowe; daughter-in-law, Deborah Hirtle; son-in-law, John Wentzell; and brother-in-law, Leonard Haley.
A public Celebration of Life will be held Wednesday – January, 11, 2023, at 11 a.m., in Sweeny's Funeral Home, Bridgewater, with Pastor Sam Jess officiating. Burial to be held at a later date. In lieu of flowers, memorial donations may be made to a charity of choice. Arrangements entrusted to Sweeny's Funeral Home, 35 York St., Bridgewater, where on-line condolences and tributes may be made by visiting www.sweenysfuneralhome.com.
Proudly Serving the Communities of Bridgewater, New Germany and surrounding areas.