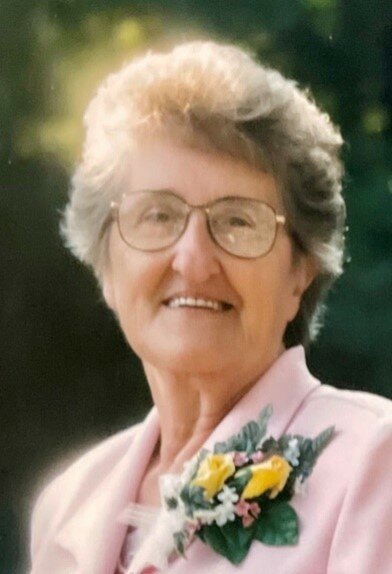 Obituary of Helen Pauline Beck
BECK, Helen Pauline – Age 91, passed away peacefully at Queens Manor in Liverpool, on March 2, 2023. Born in Baker Settlement on August 23, 1931, she was the daughter of Stephen "Colin" and Lydia (Wentzell) Beck. Once she married her true love Lester, she crossed the community line to Upper Branch where she resided for most of her life, moving to Queens Manor in March, 2021.
Helen was a firm believer of her faith, and a devoted member of the Baker Settlement Lutheran Church. She was a stay-at-home mom, an exceptional wife and mother, who cared deeply for family, friends, and neighbours. Helen loved everyone, and her door was always open to anyone who walked through it. It was amazing how people were drawn to her loving spirit — whether it was new neighbours or longtime friends, they all found their way to her home for a visit, a delicious home-cooked meal, or just a friendly game of cards.
Helen had many interests. She worked side-by-side with Lester on their hobby farm, and even in their later years, still maintained a bountiful vegetable garden. Helen was an avid quilter, who won multiple awards for her quilts, but whose true joy was making keepsake quilts for her children, grandchildren, and great-grandchildren, whom she cherished with a passion, never missing a birthday or anniversary.
Helen was predeceased by her infant son Martin; both her parents; her sisters, Daisy and Marion; and her brothers, Calvin and Lowell. She is survived by her loving husband Lester of sixty-eight years; daughters, Christine (Philip) Arenburg, Sharon Moore, Beverly Benoit, Carolyn (Michael) Graves; son, Gregory (Deborah) Beck; grandchildren, Timothy, Lora, Chantal, Tara, Kristy, Joshua, Sasha, Adrian, Leslie, Rachel, and Colin; and great-grandchildren, Elliot, Addison, and Noah.
The family would like to say a very special thank you to the wonderful and caring staff of Queens Manor, for all they have done for Helen over the past two years. Your dedication to Helen's care was extraordinary and greatly appreciated.
Service and burial will be held at a later date. Donations may be made to the Alzheimer Society of Canada or the Canadian Cancer Society, that can be made directly to the charity, or at the Sweeny's Funeral Home offices. Arrangements entrusted to Sweeny's Funeral Home, 35 York Street, Bridgewater where on-line condolences may be made by visiting www.sweenysfuneralhome.com
"To the lady of many names . . . Helen, Mom, Nannie, Grammie, and Nan, we miss you and love you, and we will cherish all the wonderful memories you left us with."
Proudly Serving the Communities of Bridgewater, New Germany and surrounding areas.