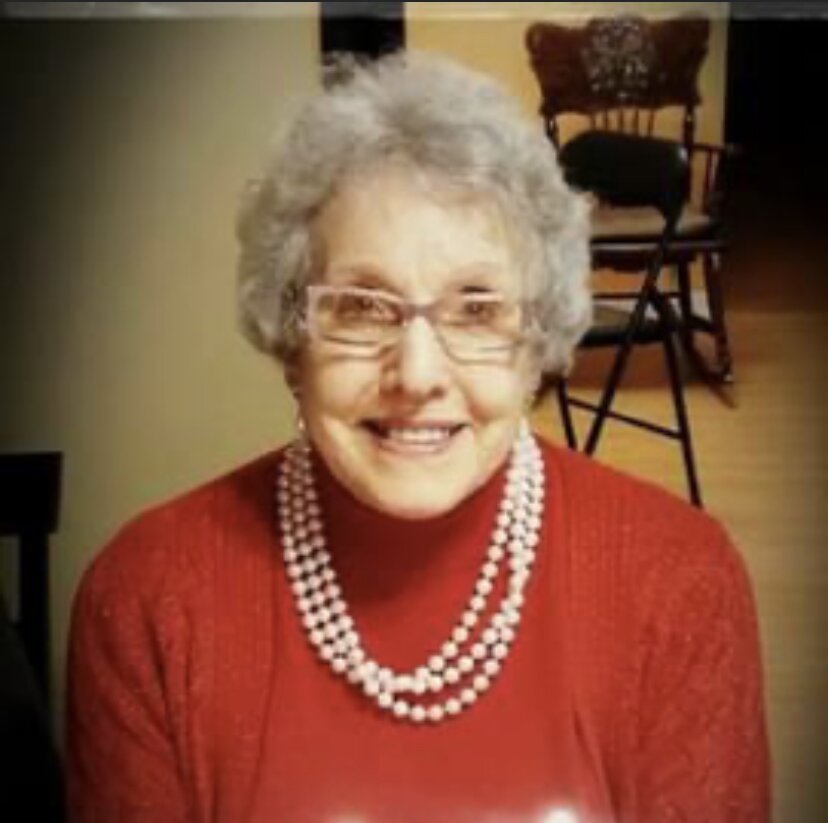 Obituary of Emily Elizabeth Croft
CROFT, Emily Elizabeth – Age 96, born in Middlewood, Lunenburg Co., passed away peacefully at Hillside Pines Home for Special Care, Bridgewater, on Monday, August 28, 2023.
Emily was the daughter of the late Frank and Beatrice (Naas) Weagle. Survived by her daughters, Paulette Crouse, Wanda McCarthy, Joanne (Robert) Clattenburg; daughter-in-law, Denise Wamboldt and sister, Marion Whynacht. Her grandchildren, Karen (Clay) Weagle, Shari (Chris) McCreanor, Tammy Crouse, David (Tammy) Crouse, Derek McCarthy, Rhonda (Kim) Roy, Ashley McCarthy, Nicole Wamboldt, Janika Clattenburg, Rennick Clattenburg; great-grandchildren, and great-great grandchildren, nieces and nephews.
Emily is predeceased by husband and father to her children, Max Wamboldt Sr.; son, Max Wamboldt Jr.; later in her life, husband, Maxwell Croft; brother, Willard Weagle; sisters, Grace in infancy, Julia Johnson, Shirley Gerhardt; granddaughter, Amanda Wamboldt; sons-in-law, Vernon Crouse, Giffin McCarthy.
Emily was a dedicated mother first and foremost. She treasured her children and grandchildren. She loved her sons-in-law and daughter-in-law, as her own children. She especially loved being Nan. She was happiest with a baby in her arms and a comfortable rocking chair. Mom was Nan to 17 great-grandchildren, two great-great grandchildren. Mom was devoted to her family and friends, she loved to love, and give you things. One of her favorites was roses from her rosebush she planted in memory of her son; every bloom was a kiss from Maxie. No one left without a rose if they were in bloom. Don't forget your kiss she would say. Food was another blessing Mom loved to share, you never left hungry, and usually with the leftovers. Mom was one of the founding members of the Christ Lutheran Church Ladies Aid, Camperdown. When you said to Mom that you loved or liked something she owned, chances are when you left for home, the jewellery, ornament, dish, whatever it was would be going with you. Visiting Mom, she would greet you with a hug and a kiss. It didn't matter how well she knew you, by the end of the visit you were family. Mom raised us to know God, to always pray, have faith, believe and trust. Don't forget your prayers before you go to sleep. She spent many a night praying for her family, friends and the needs of others. Mom wasn't shy on sharing her faith. Mom had different jobs throughout her life, homemaker was priority. Overseeing the blueberry pickers, waitressing and babysitting; but one of her favourites was selling Fashion Two Twenty Cosmetics. Any excuse to dress to the nines and help people feel better about themselves, made her happy. She also did a bit of modelling. Anyone who knew Mom, knew her love for cards, 45's and crib were the games for champions; anytime, anywhere, Mom usually carried a deck of cards in her purse. She loved to laugh and have fun, and of course win. She lost gracefully, most of the time. I could go on and on about the loving, caring and kind Mom she was. For us she was the best Mom ever! Thank you Mom for everything, we will continue your legacy of love and Jesus. If you're reading this, "don't forget to say your prayers." Love from Mom and her family. My sisters and I would like to thank the staff at Hillside Pines, for the wonderful care they gave Mom.
There is no visitation at the funeral home by request. Celebration of Life will be held 2 p.m., Friday, September 1, 2023 in Christ Lutheran Church, Camperdown with Pastor Paula Davidson officiating. In lieu of flowers, donations may be made to Christ Lutheran Church, Camperdown. Arrangements entrusted to Sweeny's Funeral Home, 35 York Street, Bridgewater, where on-line condolences and messages may be made by visiting www.sweenysfuneralhome.com.
Proudly Serving the Communities of Bridgewater, New Germany and surrounding areas.