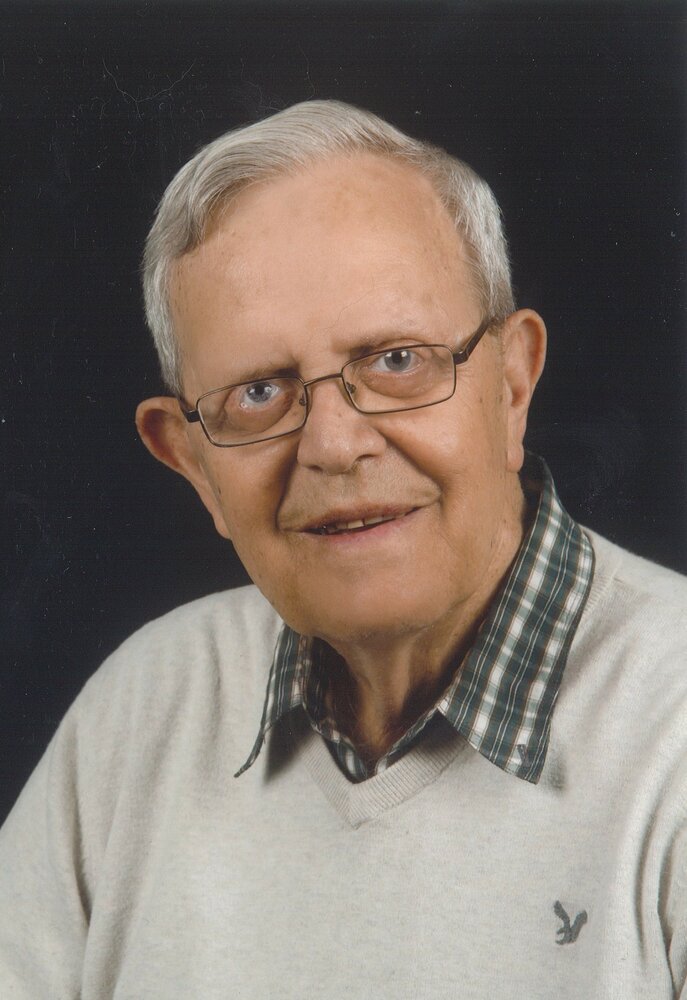 Obituary of Harold Eugene Langille
LANGILLE, Harold Eugene (1938 – 2022) - Born in Newburne, Lunenburg County, son of Harold Sr. and Helen (Carver) Langille; he passed away at home in Bridgewater, peacefully on Wednesday, May 18, 2022 surrounded by his family.
In his earlier years he taught math, first at New Germany then at Bridgetown High School. While living in Bridgetown he was a member of the local Lions Club, acting as King Lion for several years. Passionate for playing the fiddle, Harold turned his talents towards teaching many to play the fiddle during the 1970s and 80s, entertained at local community events and fund raisers.
Also, during his time in Bridgetown, he and MaryAnn, his wife of 59 years, started the Bridgetown Fiddlers Club in 1981, whose charitable works included among others, organization of the Bridgetown Fiddlers Festival sponsored by the Bridgetown & Area Historical Society. He and wife MaryAnn also organized three Maritime Fiddle Workshops between 1983-1985; he for the fiddle and MaryAnn for piano accompaniment.
Upon moving to New Germany in 1986, Harold continued to both play and teach the fiddle and in 1988 he and MaryAnn founded the Lunenburg County Fiddlers which started with 30 members eventually swelling to well over 60. Harold enjoyed sharing his musical talent with senior citizens often playing at seniors' homes, benefit shows, church events, and a number of local fiddle contests. His passion for promoting maritime fiddling eventually led him to become president of the Maritime Fiddlers' Association and co-recipient of the Curtis Hicks Memorial Award. He was also awarded an Exceptional Volunteer Service Award from Premier John Savage in 1995 for his efforts to bring joy and music to his community.
He is survived by his wife, MaryAnn (Wentzel), son David (Darlene); daughter, Cheryl (Darren); grandchildren, Anthony, Tyler (Courtney), Emily and Shane; great granddaughter, Shelby; sister, Gayle Veinot; brother, Gary; stepbrother, Richard and stepsisters, Ceclia and Valerie. He is predeceased by his elder son, John; parents, Harold and Helen Langille; stepbrother, Frank and stepsister, Patsy.
Sincere thanks to David, Darlene, Cheryl, Kathy and Bill for their tremendous support during this time. Heartfelt thanks to Pastor Richard Moore for his unending support in the many months that preceded Harold's passing. Thanks also to Dr's Pugh, Gowen, Caldeira and Robertson, his palliative doctors and palliative nurses, Noleen Riley and Paula Saile for their exceptional care and thoughtfulness. Thanks also to South Shore Regional Hospital, Lunenburg County Home Support, your care was equally exceptional and thoughtful; he often lovingly referred to you as "his girls".
His family and closest friends will forever remember countless sessions over the years either one on one or in his living room packed almost to standing room only with nothing but sheer joy and musical passion.
Public visitation will be 7-9 p.m., Friday, May 20 in Sweeny's Funeral Home, 35 York Street, Bridgewater. A private burial for family and close friends will be held at Parkdale-Maplewood Community Cemetery, Parkdale. A public memorial service will be held 2 p.m. Saturday, May 21, 2022, in Bridgewater Baptist Church, Bridgewater, with Pastor Richard Moore officiating. Donations may be made to the Bridgewater Baptist Church or a charity of your choice. Arrangements entrusted to Sweeny's Funeral Home, 35 York Street, Bridgewater, where on-line condolences may be made by visiting www.sweenysfuneralhome.com.
( MASKS MUST BE WORN DURING THE VISITATION AND SERVICE )
Proudly Serving the Communities of Bridgewater, New Germany and surrounding areas.